We wish you a veggie Christmas!
I
t's no secret that us vegetarian's get a bad reputation. The stereotypical hippy, who hugs trees, wears hemp and spends every waking hour telling meat eaters why they shouldn't eat meat. Well, I can't say that I haven't fallen into that category at some stage (ahem, pink hair was cool, ok?) but these days my choices are more about environment and animal treatment. Do I preach? No. Will I tell you if you ask. Sure….but the thing that I really want to talk about? Food. Glorious glorious food!
If like me, the idea of turkey, pigs in blankets and a three bloody bird roast (yuuuuuk) is about as exciting as watching paint dry, then follow me for a list of festive veggie treats to get your juices flowing!
Picture the scene, it's Christmas Eve. Everyone is sideways on the sherry and the buffet is in full swing. Alas, the meat platter leaves you with potato salad and a breadstick. Am I right? Well, fear not, because the amazing team from Linda McCartney are making sure us veggies and vegans can get involved in the action too. Enter, the veggie and vegan friendly sausage roll. The range also includes burgers, nut roasts, pies and delicious kievs…don't be shy, get your hands on them all.
Next up, for my vegan chums. Fed up of not getting an advent calendar or selection box from santa? Well, the
clever folks at
Moo Free
have created something just for you. Their latest advent calendar and Christmas Selection boxes are not only dairy free, but lactose, nut, gluten and soya free! "Sounds awful!' I hear some of you cry…well, I am an unstoppable fiend when it comes to chocolate, and this lot totally cured my cravings. The selection boxes come with four bars in honeycomb, mint, orange and original flavour. Please Santa?….
'But Kelly!, it's Christmas, I want something decadent!'
Don't worry, I've got you covered. Pop your dressing gown on, crack open the wine and recline on your chaise longue in front of the Christmas tree, because
Booja Booja
do decadent….AND DAIRY FREE! There are so many flavour combinations to choose from. Hazelnut, Champagne, Rhubarb and Vanilla. But my favourite has to be the Raspberry. They come in handy two truffle packs. Perfect handbag size….ahem.
(Oh and if you weren't already in love, they do ice cream too!)
Christmas Day
So, the it's Christmas Day. You've been good all year and Santa has visited. Although, he didn't manage to mention to Uncle Bob that in fact no. You don't 'still eat chicken'!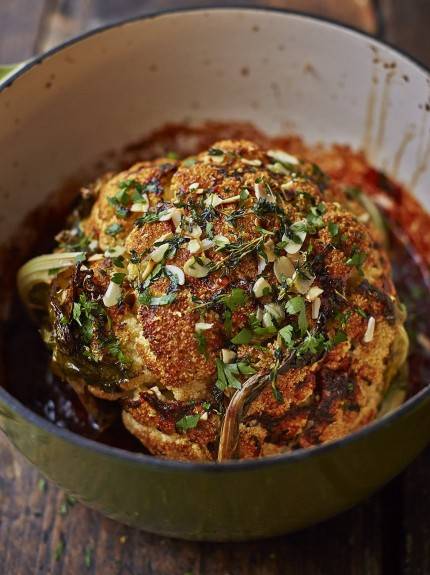 If like me, a nut roast is not getting your tinsel twinkling (but again, the lovely folks at Linda McCartney really do know what they
are doing in that department!) then can I suggest getting a little creative with a Cauliflower? Now, this one isn't technically a product, but his royal highness, Jamie Oliver doesn't forget us veggies. Tried and tested, I give you a
Thyme and Paprika roasted Cauliflower
that is sure to keep your veggie/vegan guests happy!
With all of our bad press, people sometimes think that we would prefer a stuffed pepper (no, not now. Not ever!) instead of a feast covered in gravy. Which brings me to my next point. We love gravy. For something easy peasy, try Bisto's range. The original Bisto (red jar) is actually vegetarian and they now have vegetable and onion flavours too. Another favourite is
The Bay Tree's onion gravy
. So good!
And last but not least, dessert. Now, if you love Xmas pudding, but cream isn't your thing, then look no further because the lovely folks at Alpro have created some amazing plant-based alternatives. I give you,
single soya cream
, which is also available made from coconut milk if you're all soya'd out!
And if you've got just a teeny tiny bit of room left, while you're slumped in your chair watching 'The Holiday' for the 50th time, then M&S have a gelatine free,
veggie friendly macaroon
this year. It helps that they look gorgeous too! They come in chocolate, mandarin, pistachio, raspberry and vanilla.
My Christmas veggie magic here…is done.
Merry Christmas all!
Kelly x