UK Staycation: Down Hall Hotel & Spa
Seamlessly blending historic country house splendour with contemporary bedrooms, a brand new spa and AA Rosette-awarded restaurant, Down Hall is an idyllic country escape located right on London's doorstep.
In the midst of a substantial and transformative £8 million refurbishment project to inject new life into what was once part of Henry 8th property portfolio, Down Hall has an impressive history dating back to 1322. The mansion has been home to artists, lords and baronets who've all influenced the flamboyant Italianate style that you see throughout the building – think crystal chandeliers, coffered and gilded high ceilings and opulent fabrics. The building itself stands within 110 acres of beautiful gardens and woodland near Bishop's Stortford on the Hertfordshire/Essex border – a mere 45 minutes from central London and within easy reach of Stansted Airport.
I was lucky enough to be invited to experience the first stage of their renovations and to see what the venue had to offer as not only part of our UK Staycation campaign but also for a little inspiration to give you guys ahead of your search for the perfect away day location to treat your work buddies to. Down Hall truly encompasses an experience like no other, offering the ideal leisurely countryside break for business travellers, weekend escapees, wedding guests or travellers in need of a pre-airport stopover.
I arrived on a Thursday morning and approached the house up the long and winding gravel drive, needless to say, the die-hard, traditional romantic in me was starting to cart-wheel as my Jane Eyre alter ego went into overload. The house itself is more impressive in person than on the website which when you peruse the online gallery of Down Hall, you would find that hard to believe! Checked in by the extremely helpful staff at the front desk, I made my way to one of the newly refurbished bedrooms on the first floor to freshen up before lunch and the afternoon activities.
With 98 bedrooms in total, the refurbishment at Down Hall has included an overhaul of each room which have all been individually re-designed to reflect the elegance and character of this historic property, whilst providing modern-day creature comforts. More than 50 of the west wing rooms have already been completed, bathed in natural light and decorated in traditional heritage colours with bright accents in classic country house-meets-contemporary chic. Classic and Executive bedrooms are spacious and comfortable whilst feature bedrooms boast luxury two or four-poster beds and views over the landscaped gardens. All rooms come equipped with tea and coffee-making facilities, ironing board and iron, laptop-sized safe and complimentary high-speed Wi-Fi so you really are not going to struggle here in ways which you may have done at establishments you have booked into previously.
A newly refurbished room at Down Hall Hotel.
Heading down for lunch with a group consisting of 20 guests from local companies, there was a little time to spare before we all took our seats therefore a wander around the stunning grounds at Down Hall seemed most appropriate. The sun was shining and the aroma of fresh flowers and freshly mown grass filled the air in what I can only describe as one of the most beautiful outdoor settings in Essex I had ever had the opportunity to experience.
Special events take place on the grounds throughout the year, from firework displays on Bonfire Night to festive fêtes at Christmas. In the balmier summer months, Down Hall's chefs can prepare gourmet picnics in beautifully packaged wicker baskets for quintessentially British al fresco dining and companies looking to inject energy into team building days can make full use of the outside space with opportunities for quad biking, treasure hunts and much more. If like me, your perfect down time is spent in a beautiful garden with a good book, you can combine a little literature with a stroll through their manicured gardens and the forest, something I will 100% be back to experience before outside attire must haves include a coat.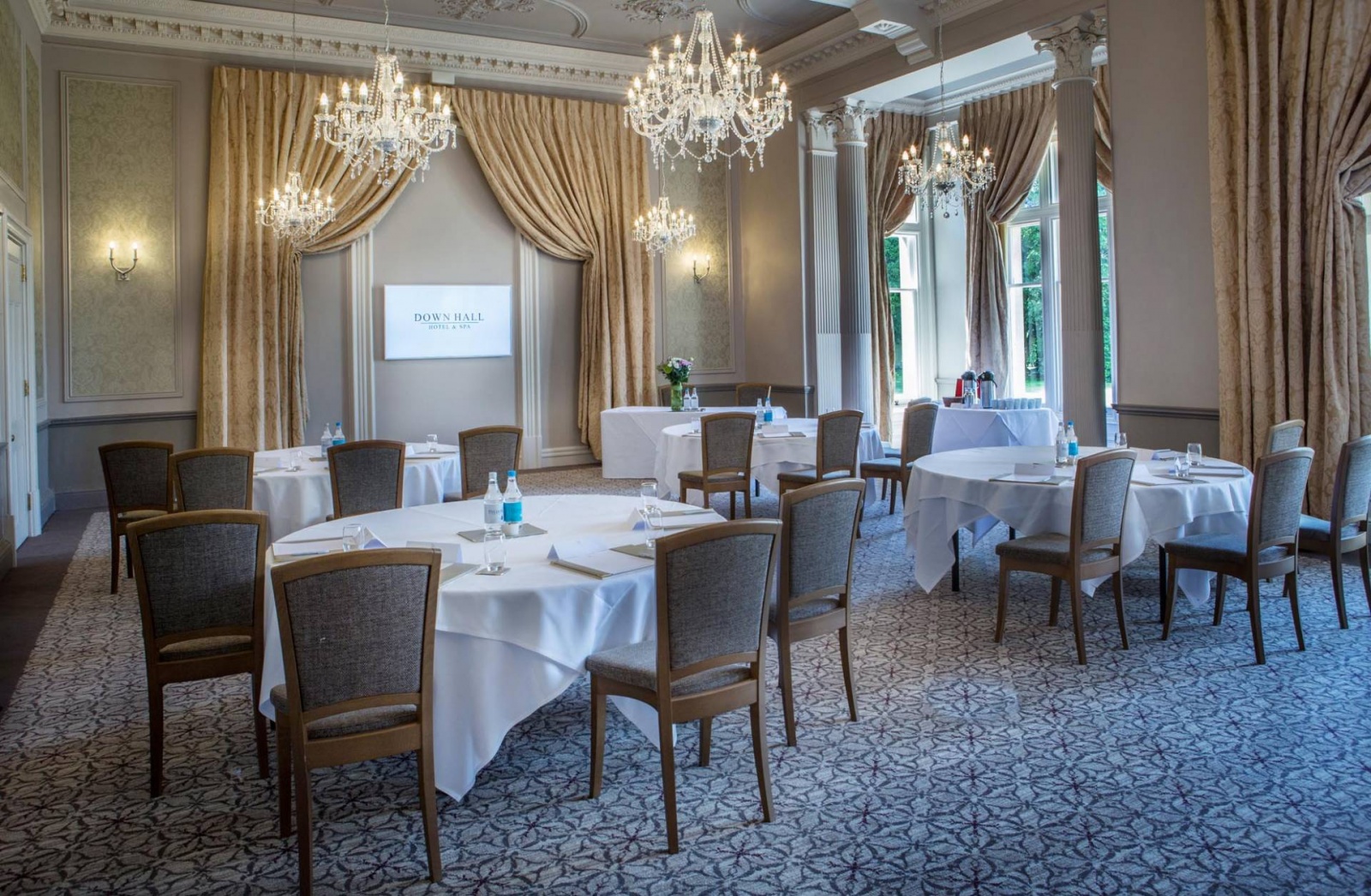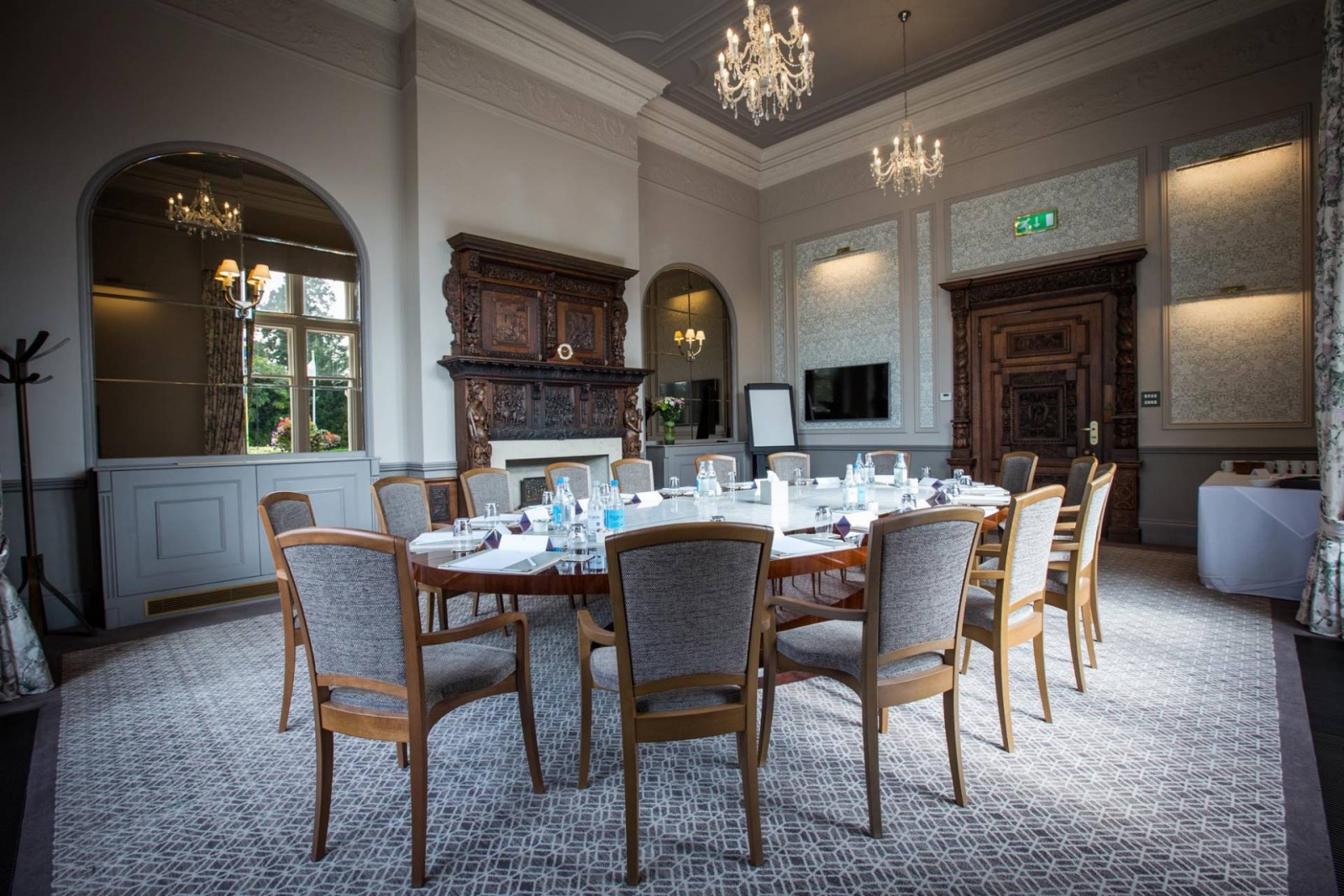 Conference facilities at Down Hall
Heading back to the house for lunch, it was fantastic to experience the conference facilities that Down Hall is able to provide from a corporate perspective. As one of the largest meeting and event venues in Bishop's Stortford, the venue boasts 26 multi-purpose rooms with a maximum conference capacity of 200 guests and as the house is located just 15 minutes from Stansted Airport and 45 minutes from Central London, it is a popular choice for everything from conferences to meetings and other general events for both UK and international guests.
The food was divine and as a group, we were introduced to Joseph Warren, Director of Sales and Marketing, our host for the afternoon and the evening ahead of us. Once the allotted time for lunch had come to an end, we were escorted through to the side of the house to yet more extensive grounds where we were to set up for the afternoon to join in with archery, laser clay pigeon shooting and a Segway experience. The afternoon and the activities organised for us further championed the idea that Down Hall has more to offer than just an overnight stay and should you ever wish to book a team building event outside of London, Down Hall has the perfect facilities at its fingertips.
After a competitive afternoon, we made our way back to the main house for a few hours to ourselves and before I committed myself to my inbox for the afternoon, a trip to the spa was at the top of my to do list.
Lounge area at Down Hall leading through to the hotel grounds.
The Eden Spa had recently been opened as a new addition to the house. With ultra-modern facilities including a hydrotherapy pool, a mood-lit sauna with full-height timber cladding and tiered seating; a state-of-the-art steam room with starry night feature lighting (oooo!); a wellness power shower and spacious changing rooms, I found it difficult to tear myself away! The spa also features four brand new treatment rooms, three single and one double filled with ESPA natural skin and spa products for luxury facials and body treatments including the signature Aromatherapy full body massage. Jessica Nails is used for manicures and pedicures, and MII make-up for makeovers. They have brand new modernised gym features with equipment for cardio, weight and strength training with cross trainers, rowing machines, free-weights and medicine balls. I have never been one for popping to the gym on a vacay but if I had brought my gym kit, I would be kidding myself if I didn't admit I would have been in that gym all afternoon.
Heading back to my gorgeous room prior to dinner, I had enough time to plan my outfit for the evening theme of 20's glamour. Accomplished with a blue satin slip dress from Topshop circa 2010, 7 pm arrived and I headed down to the main hall where champagne and canapes greeted all who were attending the evening, 40 guests in total.
I had heard that Down Hall is renowned as a wedding venue and it was easy to see why. We were to dine in one of their many banqueting rooms which all possess panoramic views over the beautiful gardens. They are able to cater for the most elegant of ceremonies, wedding breakfasts and receptions and with the bonus of on-site Wedding Co-ordinators who guide brides and grooms-to-be seamlessly from the initial meeting right up to the big day with creative ideas, a contacts book fit to bursting and years of valuable experience organising exceptional events, it's obvious to see why Down Hall has the stamp of approval from wedding parties which have previously included celebrities and famous faces.
Seated and ready to enjoy the evening, all 40 of us were treated to a three-course meal which I was beyond keen to experience as, among many things, Down Hall has a superb reputation for producing outstanding food. With an AA Rosette-awarded restaurant, The Grill Room at Down Hall, specialises in Anglo-French cuisine from head chef Matthew Hill who was recently appointed following experience at top London eateries, Tom Aikens Restaurant Chelsea and Bleeding Heart Farringdon. Using ingredients from the kitchen's own vegetable patch or local suppliers, signature starters include braised pork cheeks, pulled ham hock, air-dried ham and spiced apple purée; and leg of guinea fowl stuffed with walnuts and tarragon, marron purée and orange gel. See why I was excited? On this occasion, it was a starter of beautiful tomato and chilli soup, a main course of roast beef and then cheesecake for dessert, all with different accompanying wines superbly chosen by the head sommelier to complement each dish perfectly.
With the night coming to a close, everyone well fed and quite merry, those who were staying for the evening made their way to their rooms, including myself. With beautiful grounds, an outstanding start to their £8 million refurbishment, incredible hosting and wonderful food and atmosphere, it is without hesitation that I would recommend Down Hall Country House Hotel and Spa for everything from a UK Staycation, to a private party or a corporate stay. Here's to the next trip!
Jess x