Review: A Night at The Gleneagles Hotel
Does taking a morning stroll in the grounds of a beautiful countryside estate sound like the perfect start to your day? Can you visualise yourself sitting down on a plush velvet sofa to eat in a two Michelin star restaurant by candlelight, with a glass of your favourite wine in hand? How does filling your day with activities such as truffle making, gin and whisky tasting, clay pigeon shooting, off road driving or horse-back riding sound? Prepare to pack your bags, this is your cheat sheet to spending 24 hours (or more) at Gleneagles, the place that needs to not only go on your bucket list, but to the very top of it.
Acquired in 2015 by Ennismore who then splashed a few million quid on 12 major refurbishment projects throughout the estate, Gleneagles has always been as one of Scotland's most iconic hotels and sporting estates. Located an hour's drive of Glasgow and Edinburgh Airports, the 850-acre property sits as one of Scotland's most distinguished locations, described fondly as a glorious playground of country pursuits. With an unrivalled array of attractions that includes a five-star luxury hotel, three championship golf courses and an award-winning spa, we jumped on a plane at London Heathrow for the short flight to Edinburgh, to embark on an experience we would never forget.
Where do we start? The fundamental thing you need to realise about Gleneagles, is that it's five star through and through. Service is impeccable without being overbearing, exquisitely designed bedrooms offer contemporary luxury for every type of guest, options to wine and dine can be as casual or as stupendously glamorous as you want them to be and the list of activities both indoor and outdoor available to you, are endless.
Bedrooms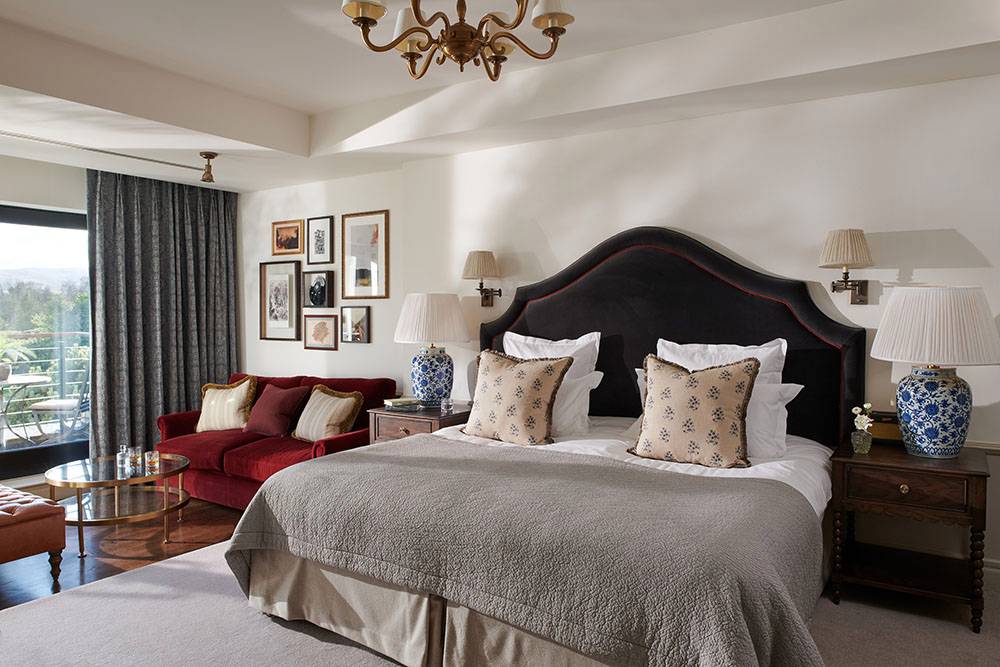 With over eight room categories and a selection of suites on offer, there is something to suit a multitude of budgets without breaking the bank. With almost every amenity you can think of catered for including a generously stocked mini bar, luxury Asprey toiletries, robes and slippers, bedrooms are accompanied by king-size beds, complimentary Wi-Fi, huge televisions with complimentary movies, air conditioning, a huge pillow menu and depending where you are in the hotel, working fireplaces and balconies with views over the breathtakingly beautiful Gleneagles estate.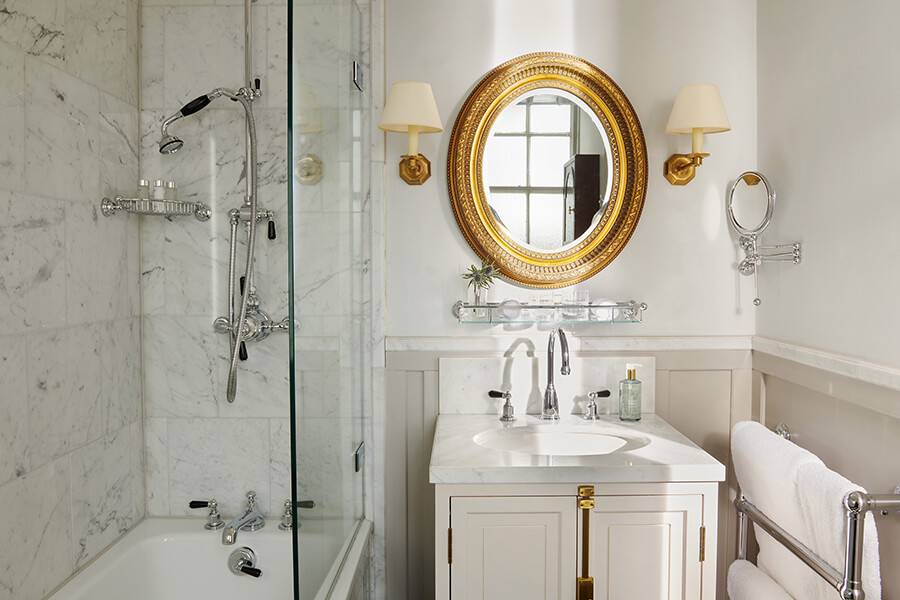 The house keeping staff are exceptional and unbelievably friendly with the turn down service the best we have ever experienced. The breakfast included with each stay is not only outstanding but the selection available is huge and accommodates every dietary requirement. If you're hungover from an abundant whisky tasting enjoyed the evening before, it's one of the only breakfast sittings we can guarantee is worth dragging yourself out of your huge king size bed for with bottomless Bloody Marys eagerly waiting for you to help you through the morning.
Eating & Drinking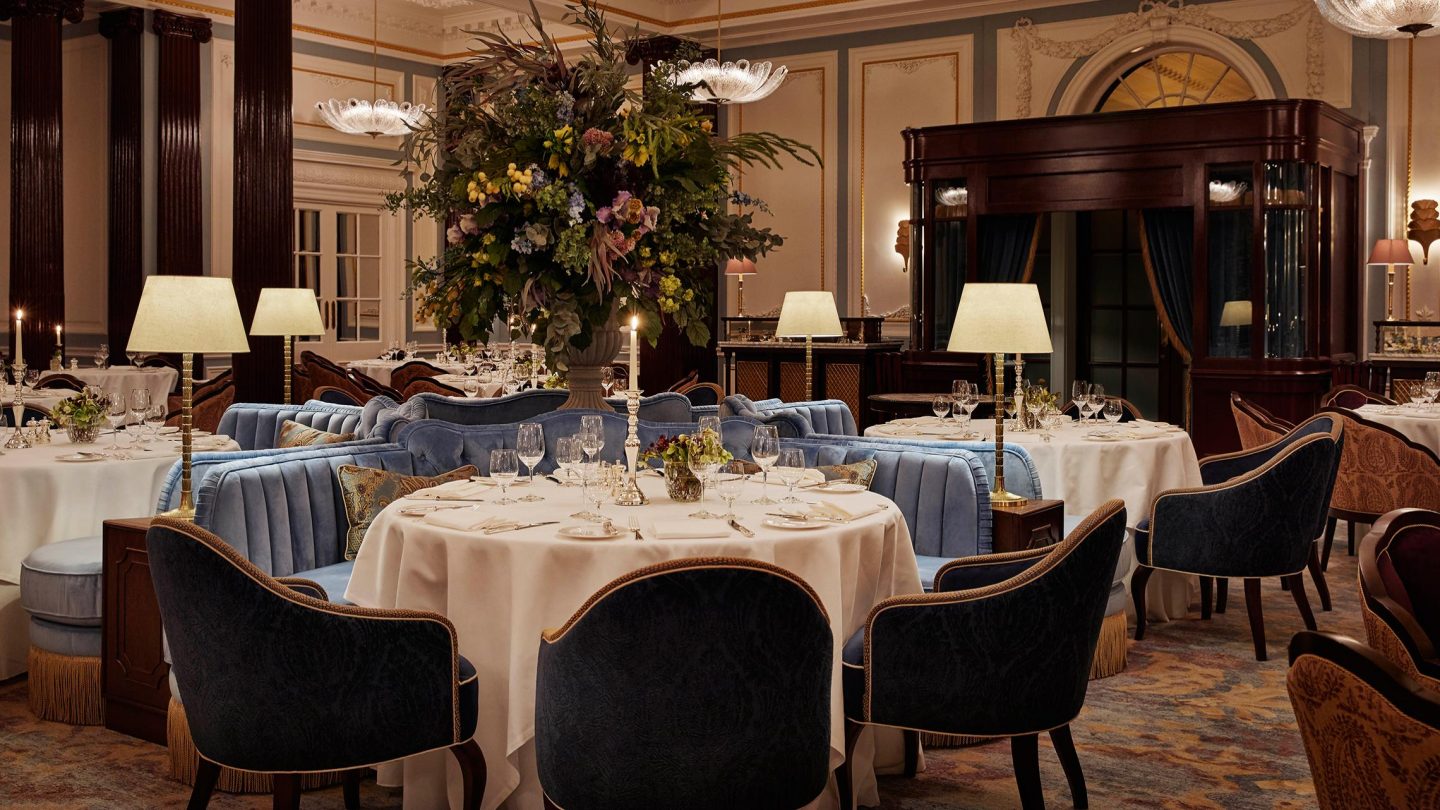 With an abundance of options both formal and informal, from bar snacks and brasserie classics to family fare and fine dining, Gleneagles is on the hit list of foodies across the world.
Featuring the only two Michelin star restaurant in Scotland with renowned Chef Andrew Fairlie at the fore, you can dine in an opulent setting with a simple yet indulgent French inspired menu. A culinary experience not to be missed, the signature dish of Chef Fairlie is the Home Smoked Scottish Lobster with a Lime and Herb Butter.
If you miss a place at the fine dining restaurant, the Strathearn Restaurant will not disappoint. With two Rosettes and waiters who will bring your flambé dreams to life, the interior of the Strathearn will transport you back to the glamour of the 1920s. Beautifully orchestrated low lighting compliments the periwinkle blue velvet furnishings and tassel trim velvet curtains perfectly, emitting a real sense of romance and grandeur.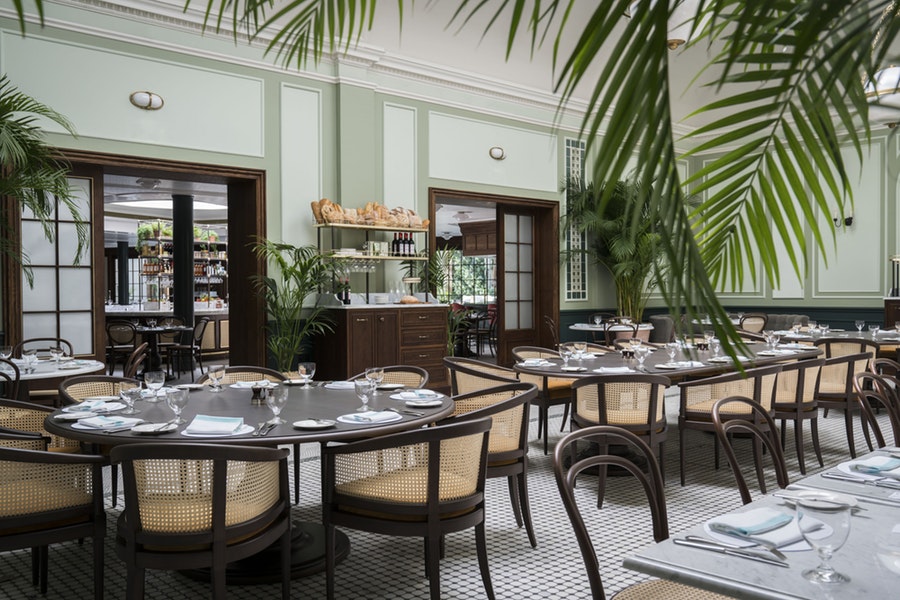 Private dining options are extensive and exude ultimate luxury with any request, no matter how weird or wonderful catered to perfectly by the team. Looking for a bespoke menu for picky dinner guests? Done. Would you like an intimate dining event for a small group with the chef available to walk you through each dish? That's exactly what we experienced when we visited! The beauty of Gleneagles is truly defined by the fact that anything is possible, communication with the team is key and they are more than accommodating to special requests, the world is your oyster!
With an additional four locations to satisfy your taste buds, Gleneagles is a place where you can truly explore and embrace your love of food. However, with a team equally as talented in the art of cocktail making, no evening spent at the Scottish hideaway is complete without a trip to the decadent American Bar, a 1920s cocktail lounge where vintage champagnes, caviar, canapes and some serious glamour is served to all with ultimate authenticity.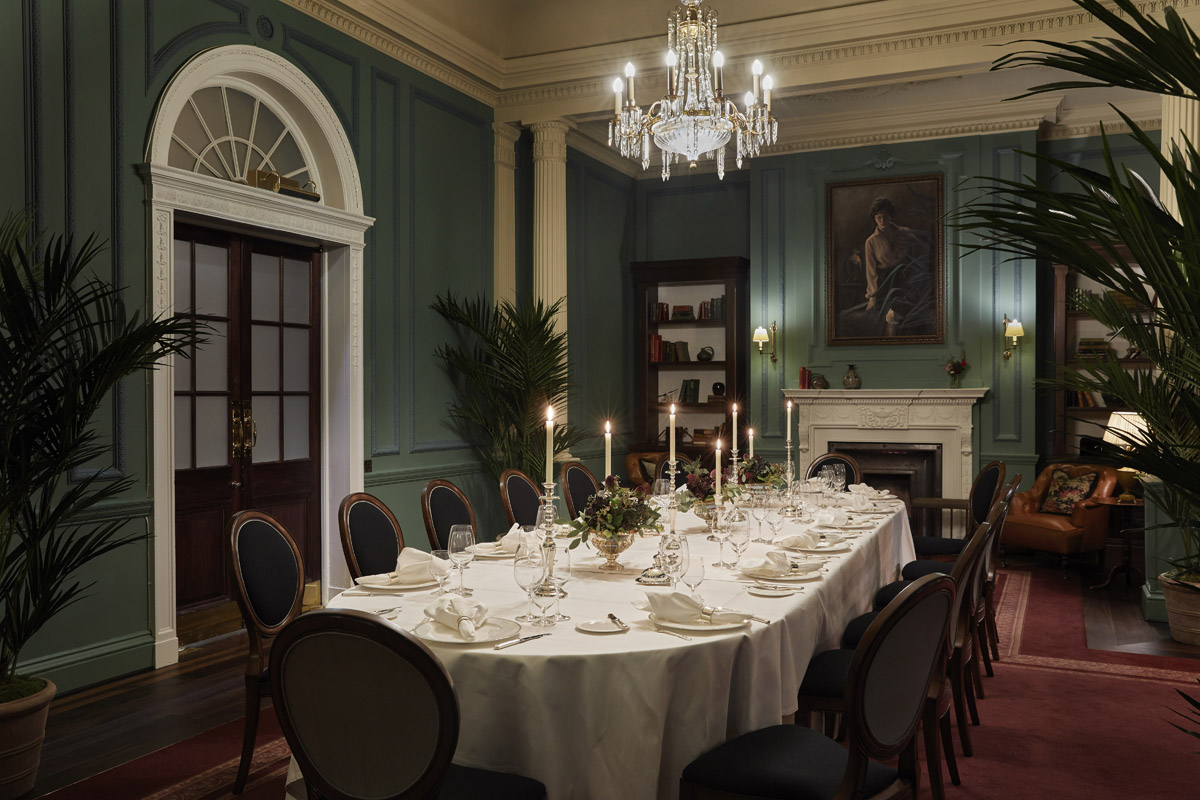 Known for its selection of over 300 Whiskeys, newbies and connoisseurs of the spirit alike can continue their evening and indulge in an in-depth Whisky tasting in The Century Bar. As we experienced during our stay at Gleneagles, Head Bartender Andrew Dewar can expertly guide you through one of Scotland's finest Whisky selections.
Activities
With an intense love of the great outdoors, the team at Gleneagles have mastered the art of providing exceptional and unique experiences that will enable you to curate an unforgettable trip for you and your guests suitable for individuals and groups.
With an unrivaled selection of countryside pursuits including gundogs and falconry, archery, clay pigeon shooting, fishing, off-road driving, equestrian sports, and more, you can get involved in new and exciting adventures finishing with a private lunch in the shooting lodge.
Gleneagles is one of greatest names in the world of golf. And as recent hosts of The Ryder and Solheim Cups, it's easy to see why. Their beautiful golf courses, in equally beautiful settings, are as much fun for novices to play as they are for the pros. With a total of three championship golf courses, an incredible club house and caddies waiting in situ to help you make the most of your time, Gleneagles provides experiences for adults and children alike making it the perfect activity to try your hand at.
Beauty + Wellness
Nothing says luxury more than investing in your own health and wellbeing and if there was anywhere to start embarking on your journey of self-care, it's Gleneagles.
Noted as having one of the best spa's in Scotland, the haven of wellness and indulgence available to you as a guest includes access to 20 treatment rooms, a steam room, a hot sauna cabin, a warm, dark vitality pool, a light-filled relaxation courtyard and a healthy Spa café.
Spa therapies and treatments are provided by highly knowledgeable and well-trained professional practitioners and therapists. Using luxury ESPA products throughout, each experience is tailored to you and your needs as a guest. With full day packages that include lunch in the Glendevon Room or the Spa Café, you can either pop in for a one-off treatment or really treat yourself to a fully immersive spa experience.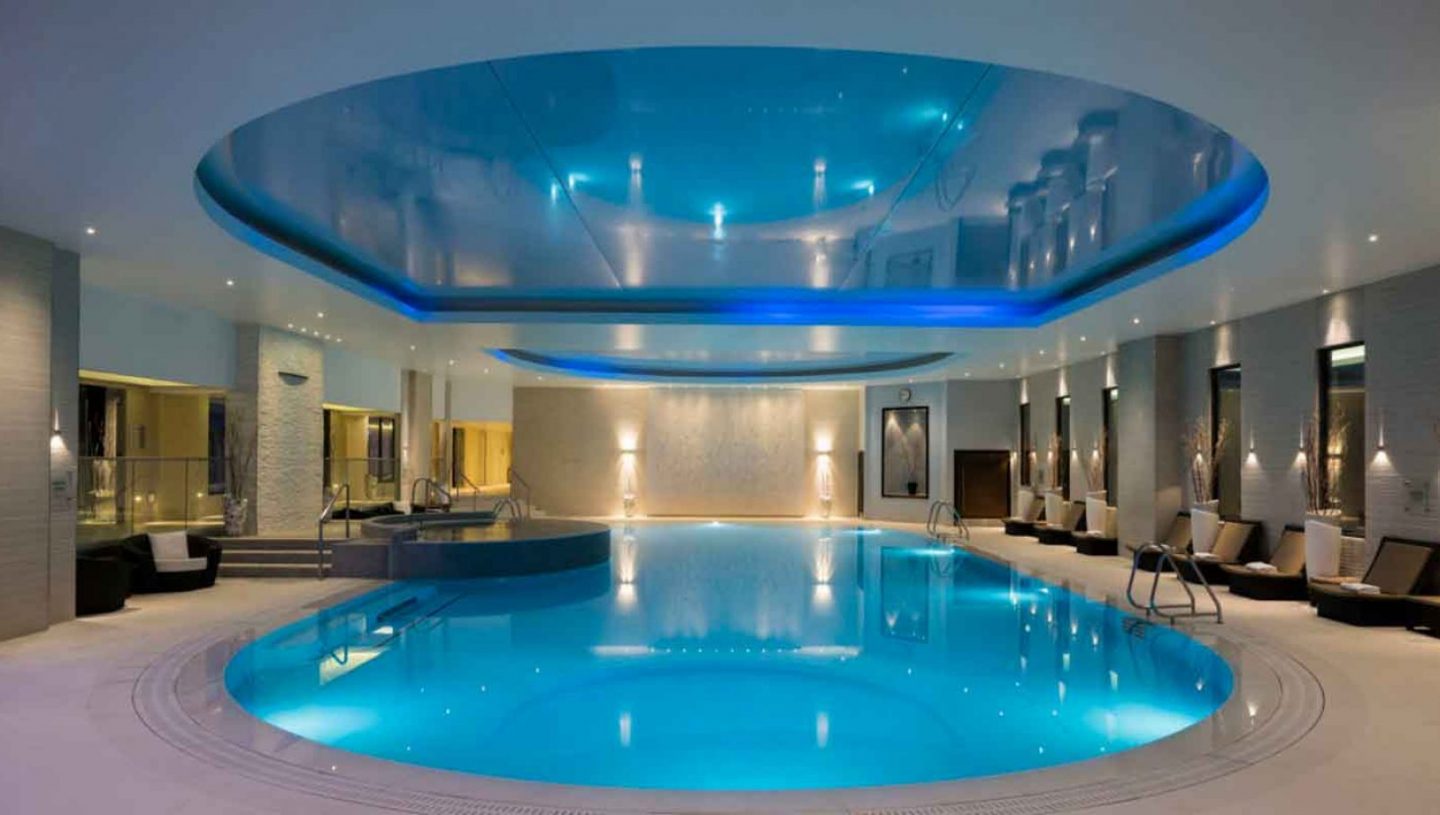 Our recommendation? The facial with ESPA oils and moisturisers was sublime, we immediately purchased two products from the retail section before departure to continue our Gleneagles spa experience at home.
When it comes to beauty, Gleneagles does not disappoint. The Bob and Cloche Beauty Lodge is a space you can imagine Mariah Carey floating around, rollers in with a Martini in hand. An indulgent space dedicated to making you feel utterly amazing and like the goddess you are, you can book yourself in for hair, nails, beauty or the full works as part of a relaxing stay or a to prepare for a special occasion.
The Little Details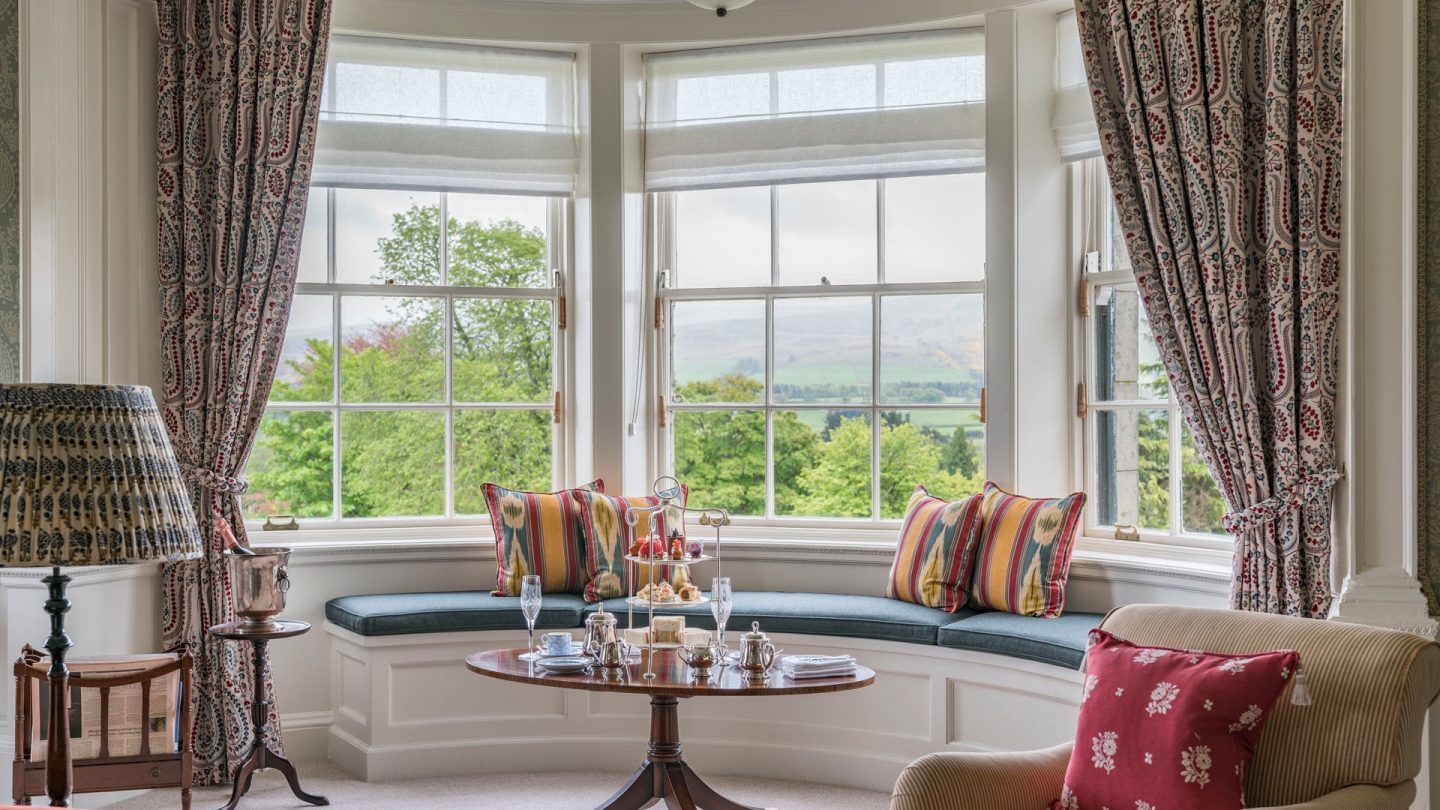 The little details are what ultimately separates an experience from the rest and Gleneagles does not fall short on providing an above premium guest experience.
From perfectly timed wake up calls, to having a designer dress lovingly attended to and dropped off with a Martini to our room before a private dinner, an embroidered Barbour jacket and accessories waiting for us upon arrival, to the incredible service consistently provided from every member of staff, Gleneagles nailed the little details.
With concierge available 24/7 to answer your every question or assist with your every need, you really can take full advantage of the expertise on site to make your stay as memorable as possible.
Travel Routes
Easily accessible from London, we travelled by plane from London Heathrow to Edinburgh airport with a total flight time of 1hr 25 minutes. Flights from Gatwick, Stanstead, City and Luton airport are roughly the same duration and flying from any London airport to Glasgow is the same.
If flying isn't your thing or if you need access to Wi-Fi throughout your journey, jump on a train either from London King's Cross or Euston station directly to Gleneagles own private train station only moments from the estate.
Available on request, transfers can be arranged for all guests needing to be collected from their arrival point by immaculately presented Gleneagles chauffeurs. Not only are they fully prepped with all of your guest details but luxury hampers are also provided with products from the Gleneagles estate including chocolates, shortbread, and freshly squeezed orange juice for the journey ahead.
Our Verdict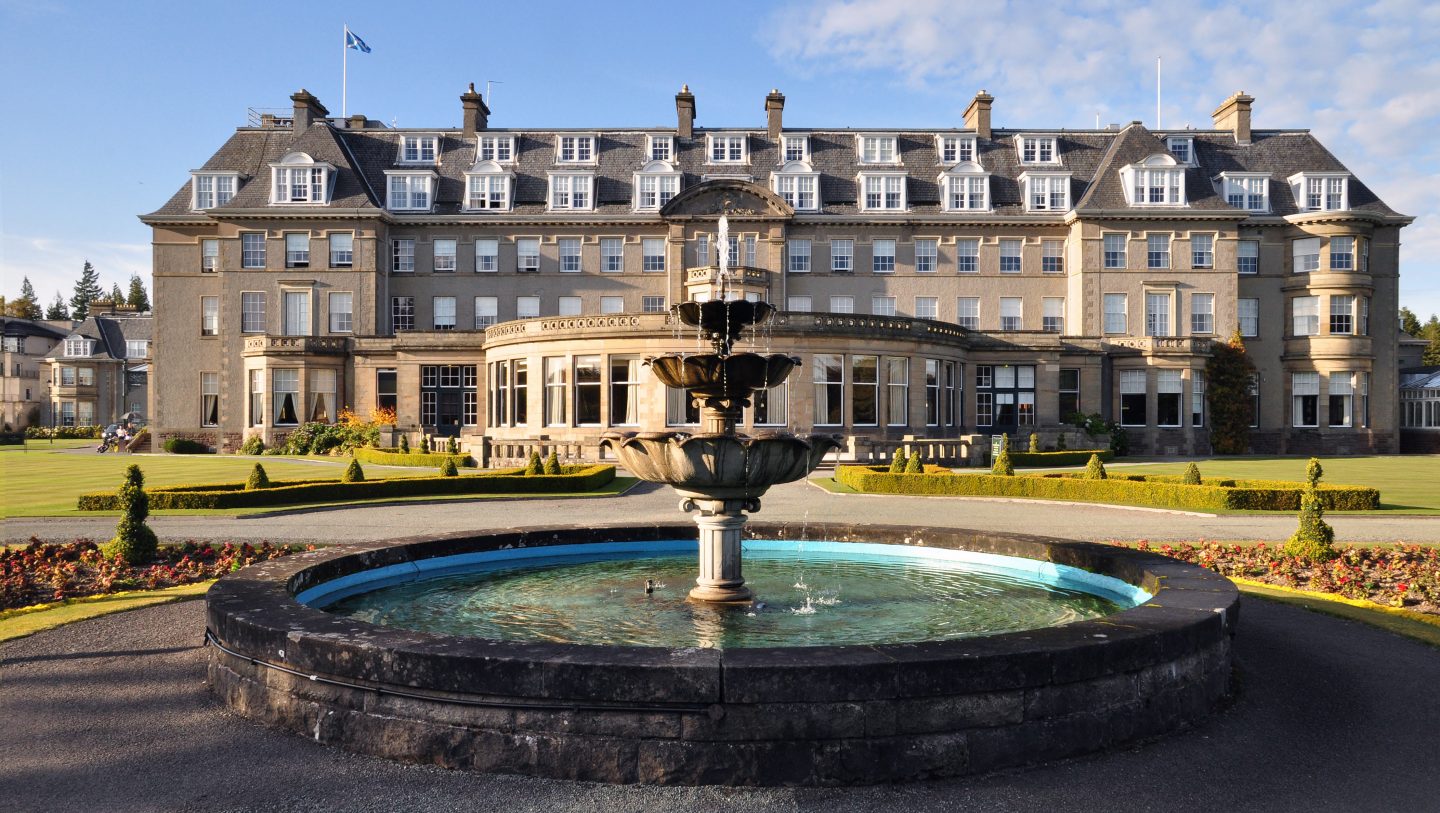 If we can book our next board meeting at Gleneagles, we will. If we can celebrate every birthday from this date forward at Gleneagles, we will. If we can get married at Gleneagles, we will. There has never been a trip more magical, more memorable, or more beautifully curated than that which we experienced executed so perfectly by the Gleneagles team. To never experience the spellbinding effect that this Scottish wonderland has would be an unforgivable crime. If there is one place you should be planning a trip to, it's here.
For more information on your corporate or personal stay at Gleneagles, please contact the team here.