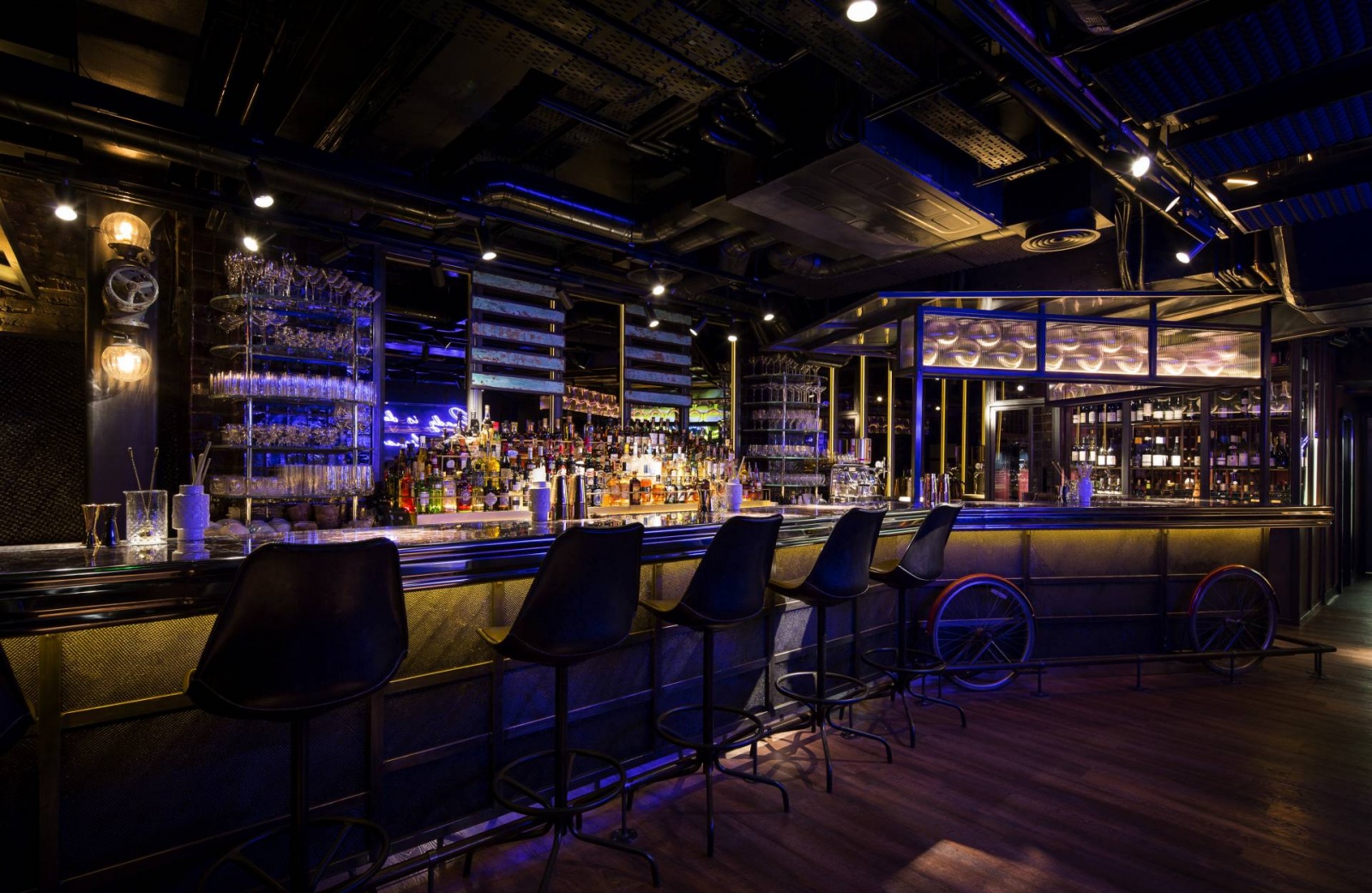 November 2016 was a big moment for Mayfair. It was the moment that David Muñoz, one of the most celebrated chefs opened the London outpost of his Madrid based restaurant, Street XO on Old Burlington Street. Street XO is the high octane and more accessible younger sibling to Diver XO, Madrid's only three Michelin starred restaurant so when we got together to host a group of Mayfairs most elite Personal and Executive Assistants with Maison De Fleurs, I could not contain my excitement.
Like the original Street XO in Madrid, the menu in London takes inspiration from European, Asian and South American cuisines however most dishes have either a Mediterranean or East Asian influence at its core. The playful menu aims to shock, surprise and delight anyone who has the pleasure of experiencing the culinary genius that is the only way to describe David's kitchen skills with bold and gutsy flavours in visually stimulating creations.
There was not much more that could increase the anticipation that we all felt after hearing such rave reviews of this relatively new establishment based in the very heart of one of London's most prestigious areas. On opening in November last year, David said 'After moving to London when I was 21 and spending five years working in restaurants like Nobu and Hakkasan, I feel like this is my second home. Great things have happened for me here and I really grew as a chef working in London kitchens. I'm so excited to now bring a cooking style that I've really evolved in Madrid to London.'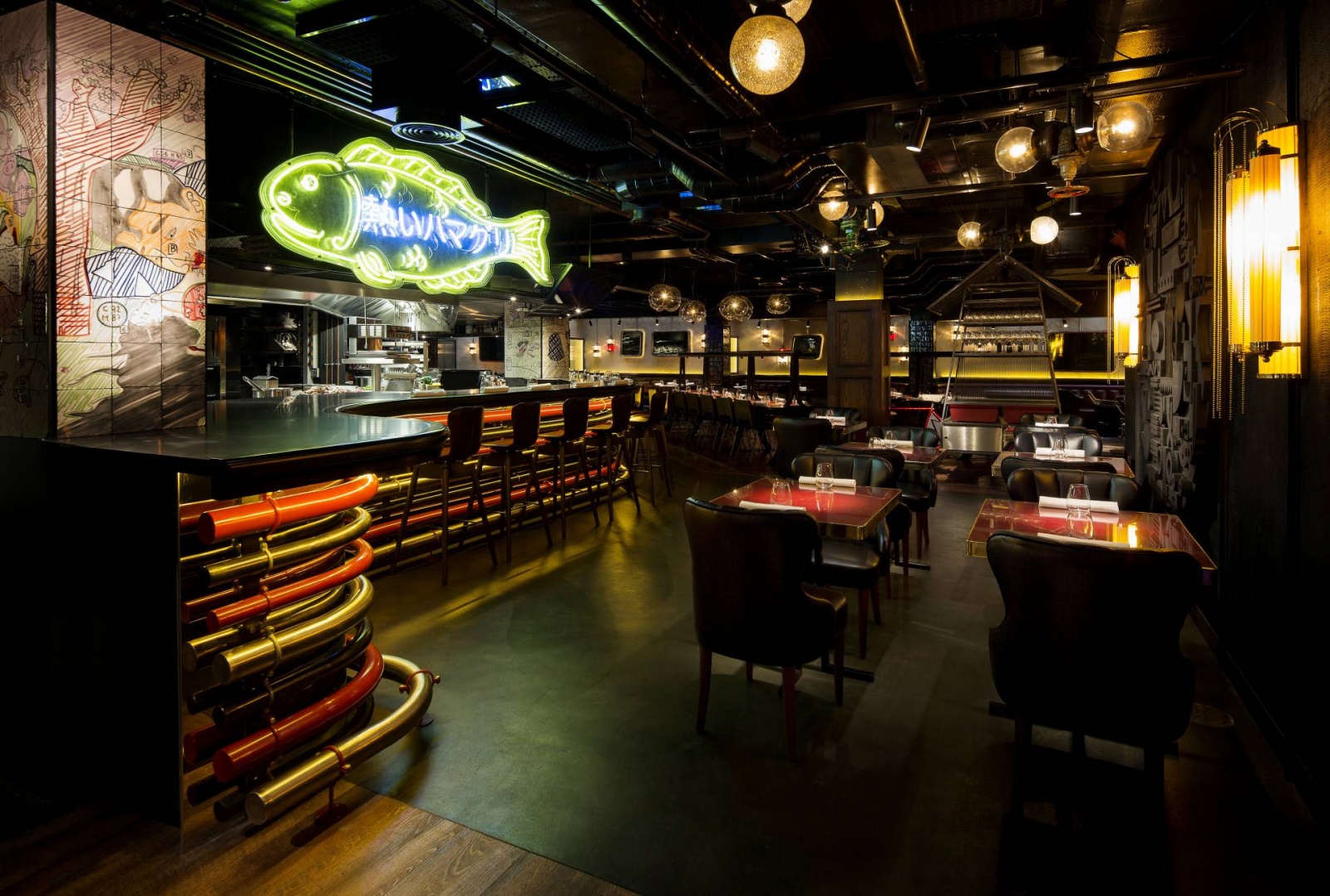 Starting his career in the kitchens of Madrid before moving to London in 2002, David's formative years were spent under the tutelage of the head chefs at Hakkasan, Nahm and Nobu where he learnt the foundations of Asian cuisine. After five years in London, he returned to Madrid to open his first restaurant, DiverXO, which was awarded its first Michelin star in 2009, second in 2012 and in 2013 becoming the only restaurant in Madrid to be awarded three Michelin stars. We knew were in good hands and seeing as David has been described as the enfant terrible of Spanish gastronomy, we all arrived to the beautiful venue to experience dishes that are as familiar as they are unexpected.
Walking into StreetXO is a memorable moment in itself. After entering from Old Burlington Street, guests are led down to the lower ground floor space where they are greeted by a large cocktail bar before entering the restaurant where all tables face the theatre of the large open kitchen and a large counter bar for diners to sit at.
Dimly lit but with a vibrant atmosphere, this is not somewhere you will forget in a hurry. The moody and atmospheric interior or StreetXO is something that really is a feature in your mind throughout the entire duration of your visit. A rich material palette of stained wood, deep red marble and concrete with exposed pipework and salvaged fixtures from a container ship provide an industrial backdrop to various dramatic artworks and neon light installations.
We all gathered at the bar with one of the restaurant's signature cocktails in hand. If you could imagine what a Victoria's Secret angel would drink…this is it. A fishbowl sized glass of gin, soda water, violet and flower petals (not full to the top of course!), we were all immediately transported into a world of unique luxury that none of us had ever experienced before.
Just like the dishes at Street XO, David and his team take a similar gastronomic approach to the cocktail list, ensuring that all drinks are playful and unexpected and provide the right balance of sweet, salt, sour and bitter flavours to compliment dishes. Before we had sat down, we had already decided that as a group we would return for a second time just to continue drinking these drop dead gorgeous and beyond beautiful cocktails. StreetXO…so far so good.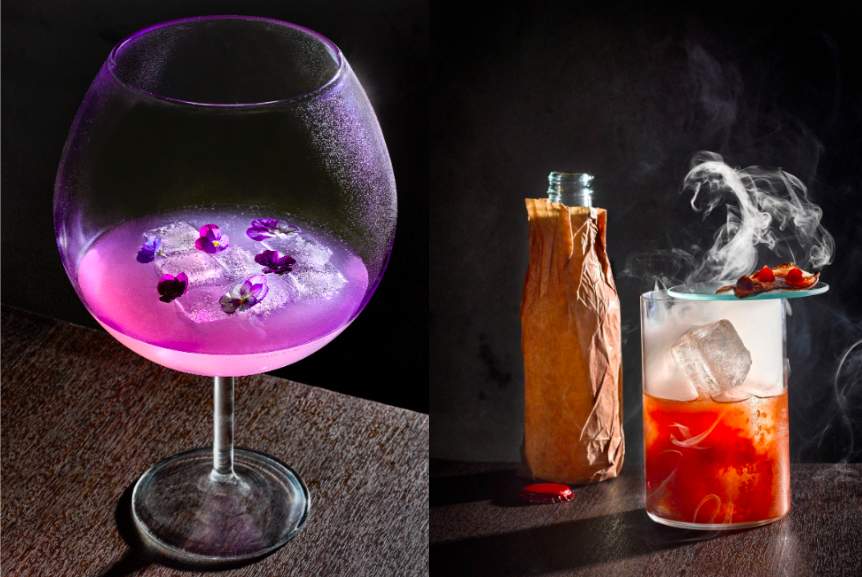 With a table of 14 of us sat down with a table adorned with fresh pink blooms from the incredible Maison De Fleurs, we eyed the set menu curated for us by David and his team to showcase the items which had become much loved favourites from the collection of regulars who see StreetXO as their new addiction.
With the entire menu made up of an assortment of sharing dishes, our menu for the afternoon was as follows –
Pekinese dumpling with crunchy pig's ear, strawberry hoisin, ali-oli and pickles
–
Hot smoked scallops with creamy citrus ponzu, coconut-kaffir, lime reduction and apple blossom
–
Steamed club sandwich with suckling pig, ricotta, quail egg and chilies mayonnaise
–
Korean lasagne XO style with aged galician beef, shiitake, gocujang hot 'n' sour tomato sauce and cardamom béchamel
–
Strawberries and cream
This is without doubt one those must visit and bucket list worthy venues in modern London and with the above menu being an incredible £25 per person EACH from Monday – Friday, we are finding it difficult not to book ourselves in every single day for a repeat of the best new restaurant in Mayfair.
With cuisine that is nothing less than innovative and served in a creative and luxurious venue with exceedingly smart and fun people who look after your every need from the moment you walk in to the moment you depart. StreetXO is going now at the top of our list for those moments that a sandwich from Pret just won't hit the spot.
Bookings are available for the tables at Street XO however spaces at the counter are on a first come, first served basis.
Street XO
15 Old Burlington
London
W1S 2JL
+44 20 3096 7555 www.streetxolondon.com reservations@streetxo.com Instagram: @streetxolondon Twitter: @streetxo_london
Jess x