Eating at: Muriel's Kitchen
Perfect for – morning meeting brunch spot, casual lunch/dinner with colleagues, date night…
I recently visited Muriel's Kitchen in Soho, a restaurant part of a small chain of three with the other two venues based in South Kensington and Richmond. The first thing I will say about this place is that booking in a re-visit is definitely on this weeks 'to do' list…
Perfect for pretty much any occasion which you are not expected to don your black tie get-up or the fanciest frock in your wardrobe, Muriel's Kitchen serves heart-warming and cosy dishes with a price tag that will leave you speechless. Two courses from the evening set menu will cost you a smidge more than a packet of twenty cigarettes at £11.95, you almost feel like Robin Hood when you leave and that the staff both in the kitchen and on the dining room floor collectively make up the Sheriff of Nottingham…just a lot friendlier
Walking into the restaurant the atmosphere was electric and every seat was taken (good sign!). If you're thinking of visiting I would highly recommend booking in any venue of the Muriel's Kitchen chain due to not only their popular locations but due to their reputation among locals of preferred eatery when you're on a budget.
The interior was beautifully decorated with a cosy, chalet-esque feel. We were lead through the dining room to a cushioned area where we were seated and were left to peruse the menu which included an option of a two course or three course set menu costing £11.95 – £13.95 per person. We opted for the two course set menu with a bottle of house white wine and large bottle of still water.
Now the great thing about Muriel's is that you really can get a fantastic portion of well prepared and cooked food from the eye popping low cost set menu, something I was rather dubious of prior to having our choices placed in front of us by our lovely waiter David. Our menu choices were as follows:
1st Course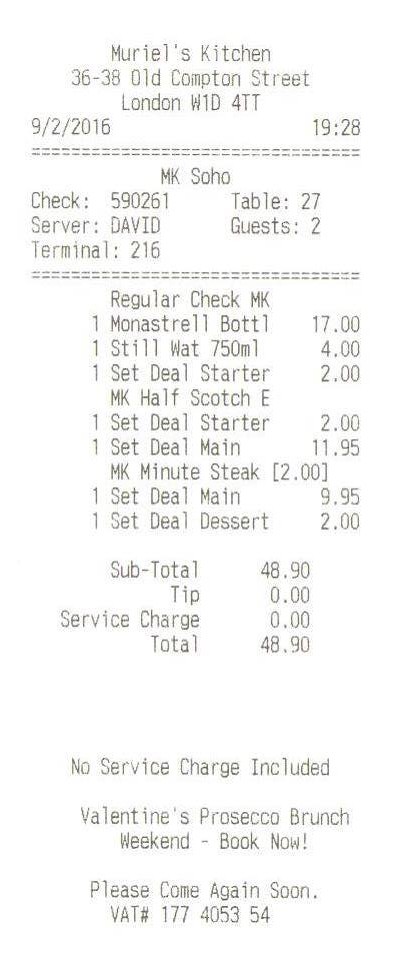 Butternut Squash Soup
A warming & hearty bowl of butternut squash soup garnished with pumpkin seeds, toasted croutons & drizzled with olive oil
Clarence Court Scotch Egg
With Homemade Red Onion Chutney
2nd Course
Minute Steak & Chips
£2 supplement
Muriel's Chicken & Peach Curry
Creamy chicken with sweet potatoes & fragrant basmati & wild rice
The only thing I can think that really does the food justice when attempting to explain how enjoyable both courses were is that our plates were practically clean after each dish. I can also confirm that the portions are boy-approved and that my guest was a rower who consumes three times the amount of calories as myself per day and even he was full up, that in itself is an achievement.
With the attentiveness of the staff and with half a bottle of wine left, we decided that we still had enough room for a slice of Nutella Chocolate Cake accompanied by a scoop of vanilla ice cream…YUM!
The entire experience at Muriel's was exceptionally enjoyable and at £48.90 without tip who can go wrong?! The service was faultless with some of the friendliest wait staff I have encountered so far in London and the food was fantastic especially considering the cost.
I would highly recommend this venue as somewhere to enjoy for a breakfast brunch meeting (the AM menu looks incredible), a casual lunch/dinner with colleagues or even date night (guys this is a sure winner!)
Check out Muriel's Kitchen here http://www.murielskitchen.co.uk/
Lot's of love,
Jess x