Eating at: Margot, Covent Garden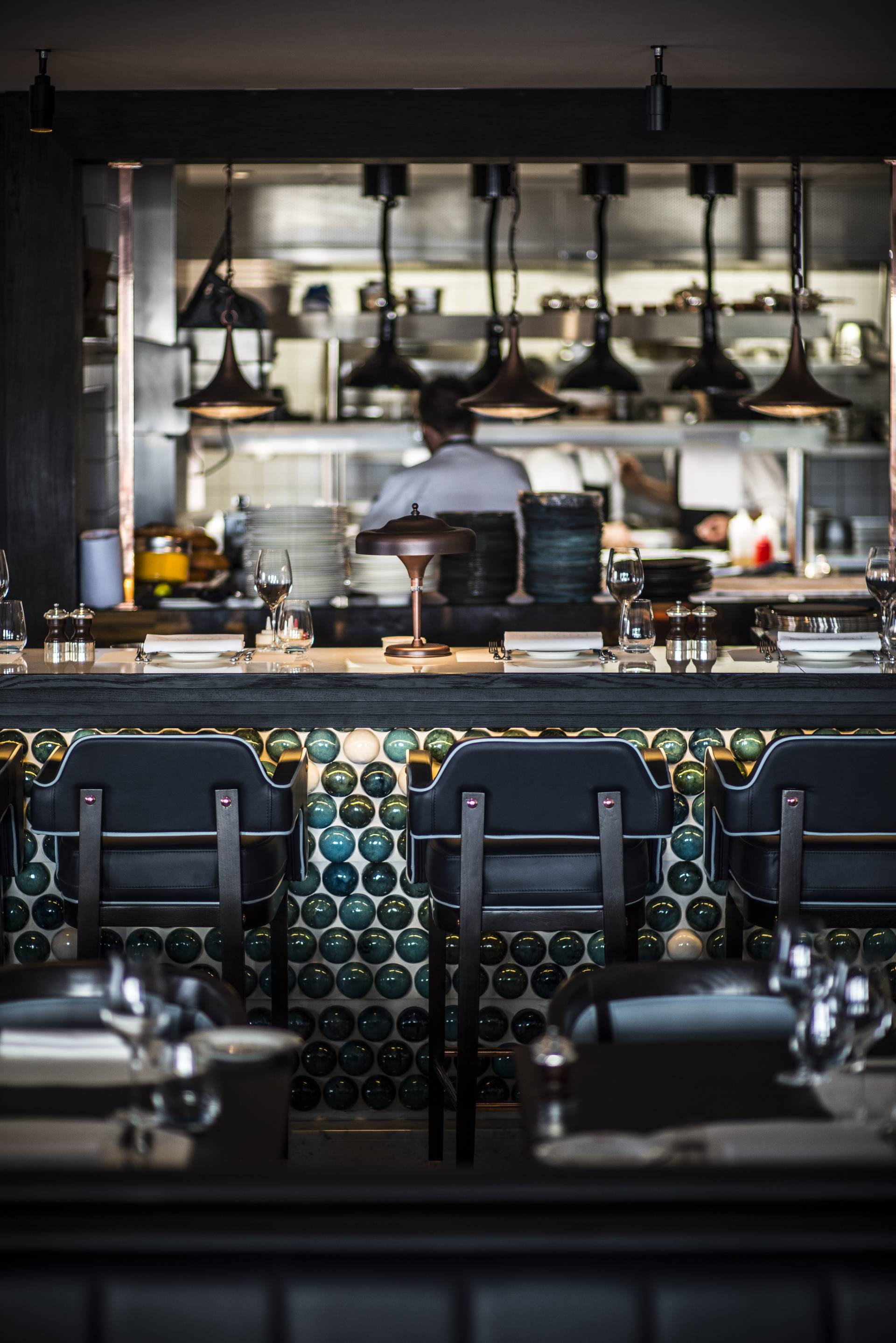 Margot, where to even begin? How can I live without you? Tell me we will be reunited again soon! It sounds as though I am addressing the love of my life which in many aspects is highly accurate and I am totally unashamed of the level my adoration of the Italian beauty has reached that I crossed paths with in Covent Garden two weeks ago. This I can imagine may leave you thinking 'What?! What's happened to Liam?!'…well no, I haven't traded him in for an Italian bombshell which I hope many of you will be pleased to hear (he certainly is), Margot does indeed hold a dear place in my heart but of the restaurant variety only.
Still in its infancy, dynamic duo and industry professionals Paulo de Tarso and Nicolas Jaouën threw open the doors to Italian restaurant Margot in October 2016 with a focus on seamless service, refined interiors and the authentic food of Italy, alongside an extensive international wine list. It really is the coming together of years of experience and insider knowledge of successful restaurants with their signature service style the fundamental element of the restaurant's concept. Margot has the ability to make you feel relaxed and welcome, with a team trained by the restaurateurs on hand to ensure each and every dining experience will be exceptional and believe me, they do not disappoint.
Designed by Fabled Studio, the interiors of the 104 cover restaurant create an inviting, comfortable and refined environment. Inspired by the architecture and design of Italian greats Giò Ponti and Carlo Mollino, Margot features an elegant yet contemporary colour scheme of deep blues, pale marble and copper accents throughout. Set across two floors, the upstairs dining space is flooded with natural light from the vast, original windows, while downstairs offers a cosy escape from the hustle and bustle of Covent Garden's Great Queen Street.
Two of us were seated at lunch time in a beautifully set booth surrounded by diners eagerly eating their way through the incredible menu created by classically trained Executive Chef Maurizio Morelli. Providing an authentic taste of Italy's various gastronomic regions, with delicate, yet flavourful plates executed with the Maurizio's light touch, the carefully curated selection of dishes span expertly sourced cured meats, carpaccio and tartare dishes, salads, homemade pasta and a range of meat and fish main courses. Reflecting the restaurant's service-led ethos, many dishes are available in two portion sizes to allow for a flexible dining experience which means the no matter the number visible in your bank account, Margot is happily affordable for those wanting a light take on lunch or dinner…or if you're me, both.
Browsing the menu over a glass of fizz, we were guided through the many options by the staff who are so expertly trained in providing an elite dining experience to all those who walk through their doors.
Opting for the beef tartare with scrambled egg and black truffle for the first course, our waiter boasted of its popularity with diners which had enabled its availability as not only a starter but as a main course also. Something I almost took complete advantage of, it was that good. With my guest opting for a simple salad and with a glass of white wine each chosen to match our menu choices, our visit to Margot had already exceeded our expectations tenfold.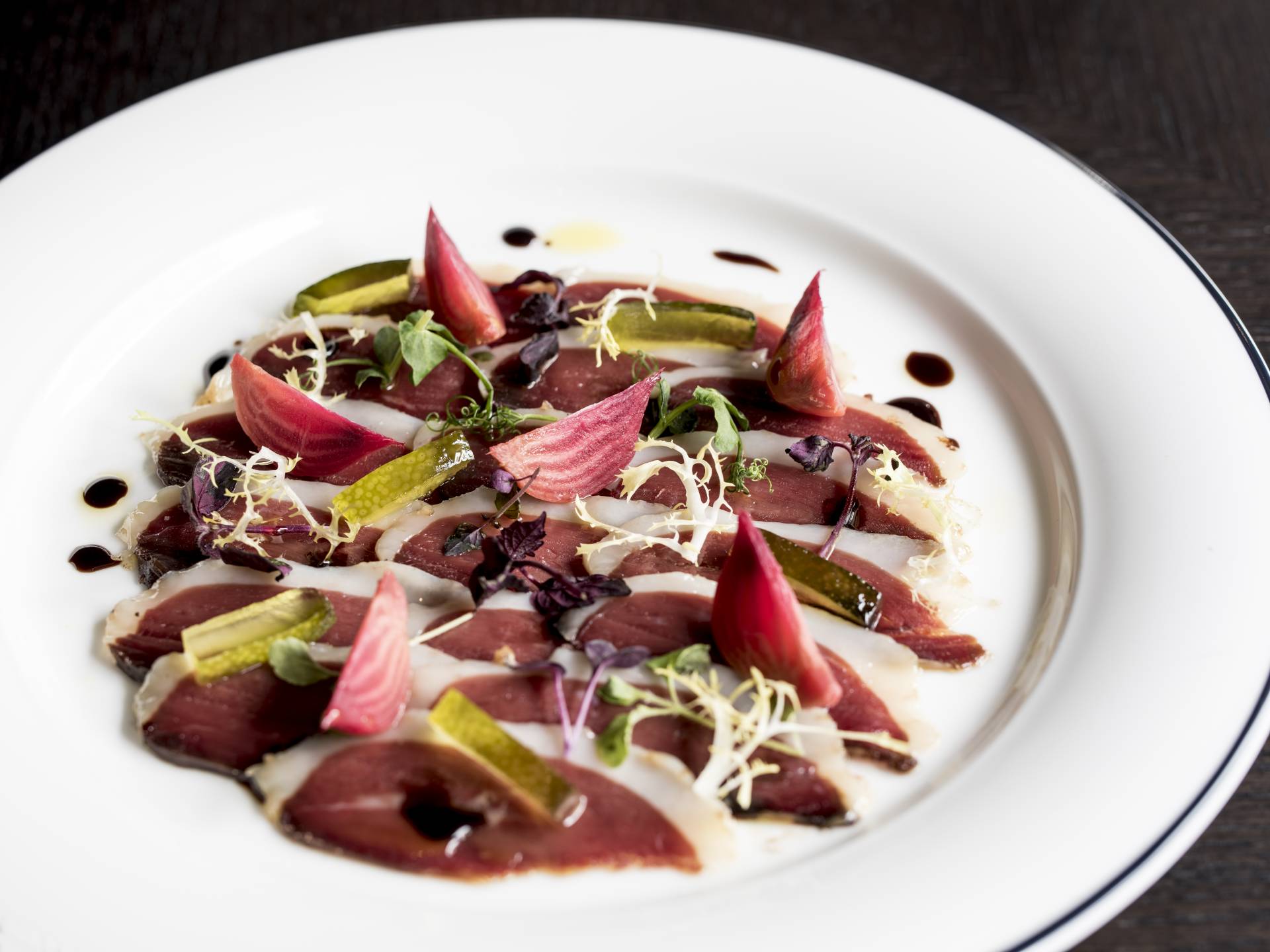 '…with a glass of white wine each chosen to match our menu choices, our visit to Margot had already exceeded our expectations tenfold.'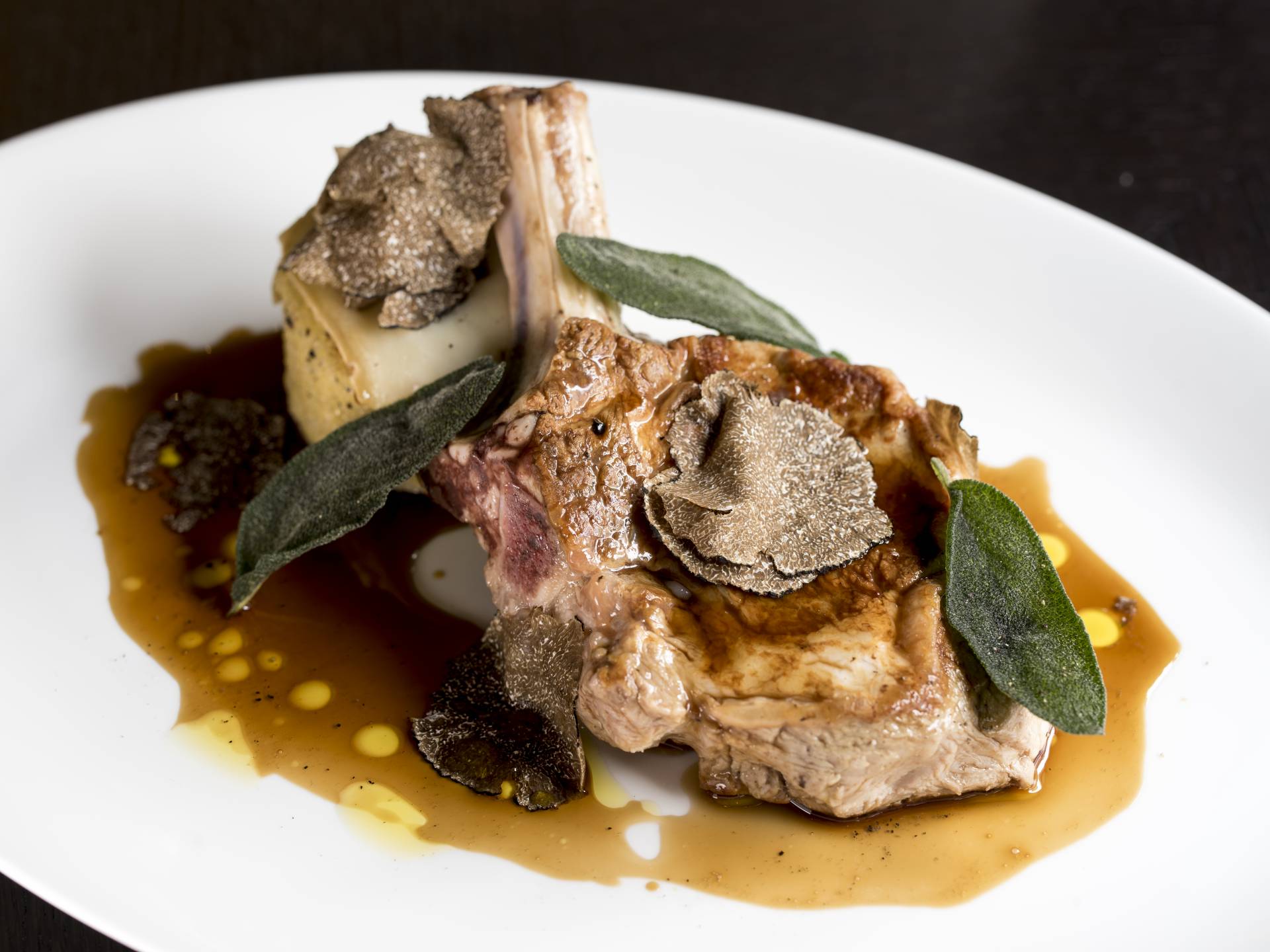 With further assistance regarding the menu, our main course options consisted of pork belly for me and steak for my guest. It was between our first and main course that we were treated rather unexpectedly to a trio of pumpkin ravioli specifically sent from Executive Chef Maurizio to our table. After reading many reviews of Margot, the pasta homemade in their kitchen is a regular favourite of all who visit and conduct a write up of their experience. It is this dish specifically that I personally have been recommending to anyone who is looking for an Italian experience without hopping across the pond to Rome.
With our compliments already to the chef only two plates into our afternoon, our main course options arrived with another white wine paired to the flavours and ingredients we had chosen. Minds blown. Our visit to Margot was slowly becoming the ultimate way to spend any afternoon in London and is what I can only describe as one of the best culinary experiences I have ever enjoyed. It is impossible to define the standard of food at Margot. It is simply sensational.
'It is impossible to define the standard of food at Margot. It is simply sensational.'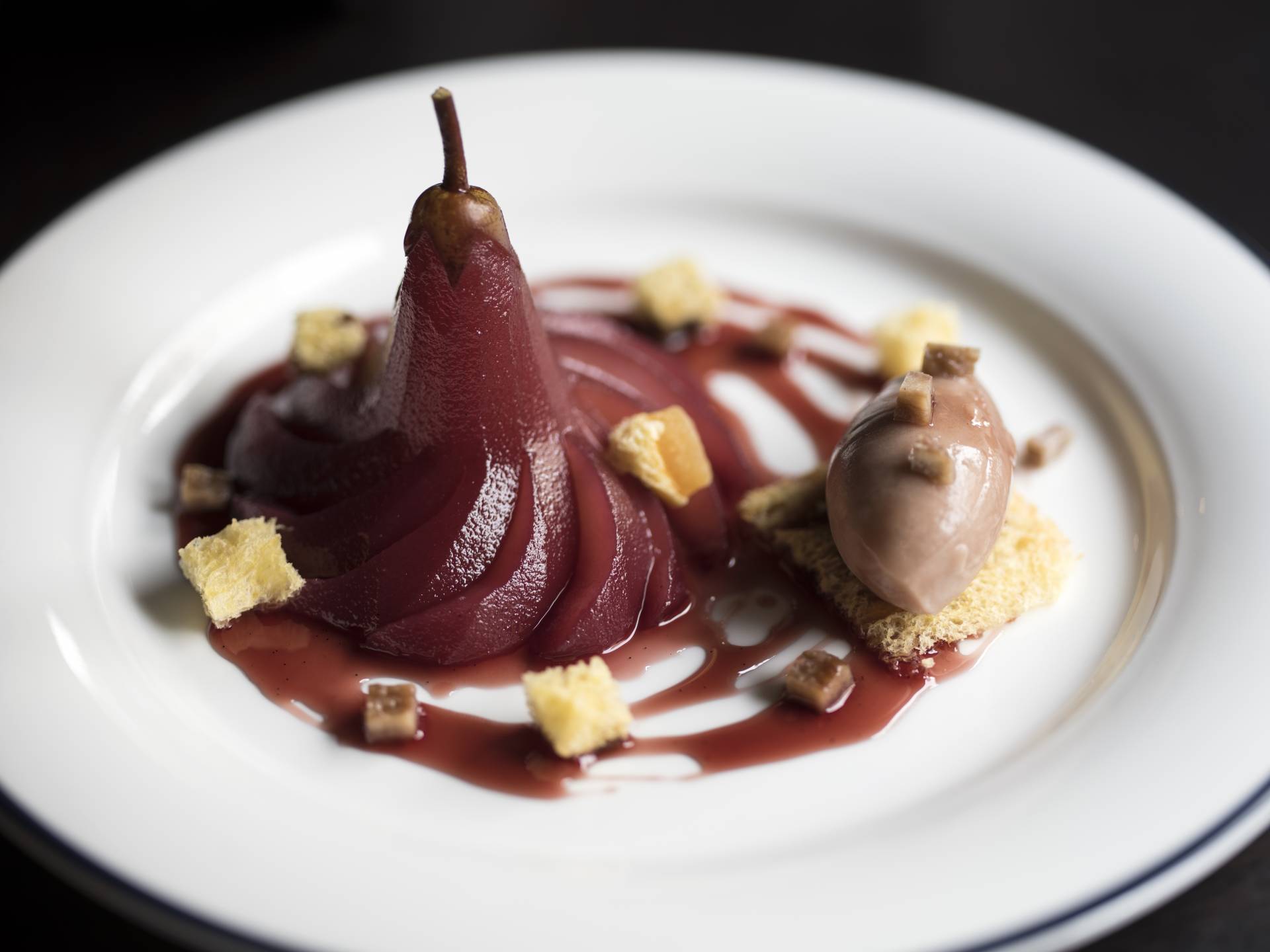 Suitably stuffed, three hours into our 'lunch' and feeling quite merry by this point, we scanned the dessert menu however reluctantly resisted in fear of being unable to stand or walk to our afternoon meetings. To fill you in on the selection of celebrated Italian desserts on the menu, you will find everything ranging from a decadent tiramisu with chocolate heart and Modica chocolate crumble to flattened Sicilian cannolo, ricotta cream and pistachio ice cream. You can see why the word 'reluctantly' is so prominent in this section.
The setting at Margot throughout provides a versatile backdrop and the perfect location for a relaxed lunch or atmospheric dinner, or to enjoy charcuterie and wine in the early evening, an aperitivo before a meal or late night digestivo. The Club Room in the lower ground floor is perfect for private parties with a small bar specifically for use in that area. Margot is certainly no one trick pony, you can do everything from corporate lunches to meeting the parents, hosting hen do's, drinks with friends and even corporate parties in the best new restaurant in Covent Garden.
The culmination of months of hard work and passion from Paulo and Nicolas, Margot brings impeccable service, beautiful interiors and great Italian food to London. Looking for somewhere new to go? Margot has my full attention.
Jess x
45 Great Queen Street, Covent Garden, London, WC2B 5AA | +44 (0) 203 409 4777 | reservations@margotrestaurant.com