A Night at Hakkasan Dubai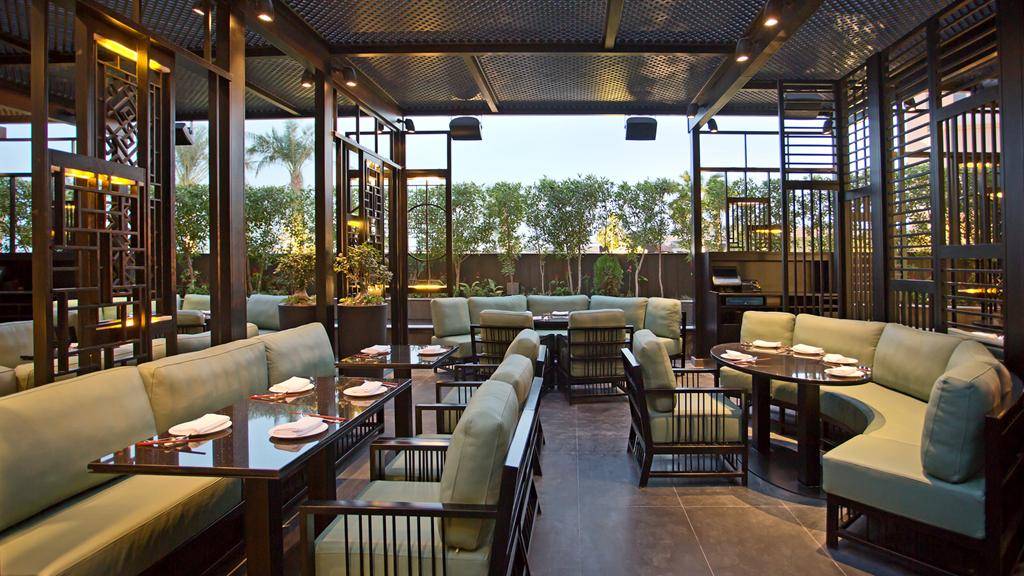 Hakkasan Dubai opened in November 2011 in the iconic Jumeirah Emirates Towers Hotel. With the beautiful features including rustic wooden pavilions, lush exotic greenery and Hakkasan's signature oak latticing, this really is a venue which is a stunning example of the creative genius behind the brand. The restaurant itself accommodates a whopping 112 seated guests on the terrace and an additional 152 guests inside the restaurant, including the opulent Ling Ling lounge, designed in black, gold and white. In addition to Hakkasan signature dishes and those created especially for an Emirate clientele, guests who pop by can also enjoy an extensive selection of spirits and world-class cigars, dreamy!
I recently travelled to Dubai and was lucky enough to meet Paulo, General Manager of Hakkasan Dubai and his wonderfully talented team. What an experience! We were greeted by Eleanor stationed as their front of house guardian and was guided through the patio and garden area to our outside terrace table. Raised on a platform, the terrace is adorned with low lighting and as a guest, you are surrounded by the sound of running water from the many fountains in the background with a vibe similar to a private Japanese garden. It reminded me of something from Casino Royale.
My senses were also welcomed with the signature Hakassan scent and I'm not talking the dishes, incense filled the air creating an immediate ambience, telling of the luxury brand that the Hakkasan Group have so expertly created. The atmosphere was relaxed with a quiet energy and the setting was absolutely stunning. We were offered drinks immediately by our waiter who suggested a signature Smoky Negroni for my guest and for me an "only in dubai Ruby Earl", both of which were fairly potent and delicious.
Paulo talked us through the plan for the tasting which was basically his own personal recommendations on some of the best dishes, by this point our mouths were watering in anticipation of what was to come!
Our first course arrived consisting of the most refreshing, light yet tasty Crispy Duck Salad with pine nuts and shallots. The colours were vibrant and the citrus taste along with perfectly crisp duck was absolutely spot on and just what we needed in the heat. I would have been satisfied with that alone!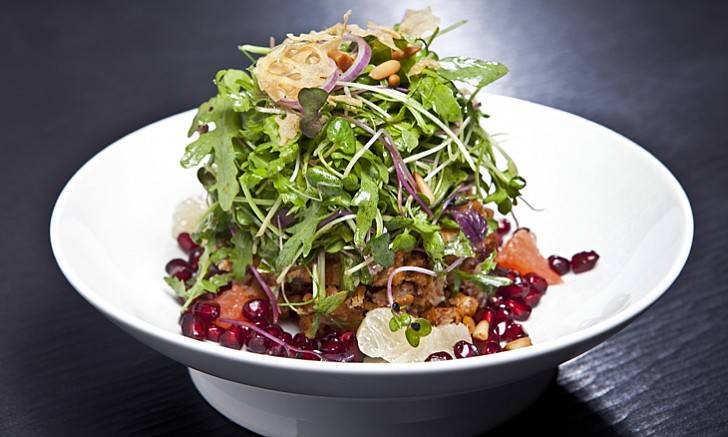 This was shortly followed by the Chef's selection of steamed Dim Sum. There were four options which varied in appearance and taste including scallop shumai, har gau, black pepper duck dumpling, prawn and Chinese chive dumpling. The different textures and flavours were exceptionally complimentary of each other and clearly carefully selected. My personal favourite was the prawn and chive dumpling.
Excited to try the main courses which soon arrived at our table, we were grateful for Paulo's recommendations, he certainly he did not disappoint! Spicy prawn with lily bulb and almond, Stir-fry black pepper rib eye beef and a side of pak choi, absolutely stunningly presented and we could not have been more excited to tuck in!
The portions were quite large which makes Hakassan great for sharing. The prawns were enormous and with a coconut sauce accompaniment it was the perfect combination. The beef literally melted in my mouth and the pak choi was oozing in garlic. We were both consistently impressed with our waiter and Paulo's extensive knowledge of all of the dishes, obviously this should be a given in a restaurant of this standard but they really went the extra mile explaining ingredients and the best accompaniments for each individual flavours. An absolute must when you visit a restaurant which certainly isn't a cheap night out.
Last but most definitely not least came the desserts. Almost full to bursting we were promised they would bring us something light to finish perfectly and they definitely delivered on this promise. The Hazelnut Jivara bomb and sorbet selection presented to us was divine; I'm not a big desert person but it was honestly just dreamy.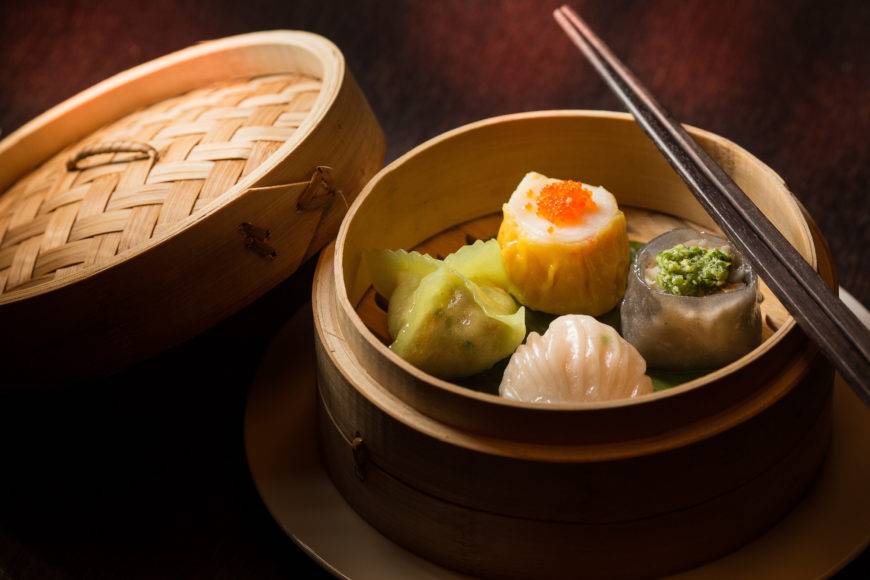 As one of the best evening meals I have had in a long time, Hakkasan provided such a perfect and varied selection of dishes and flavours making for an amazing evening in Dubai. Should you venture this way or be in charge or coordinating an overseas trip on behalf of the boss, I would strongly recommend a visit to Hakkasan to experience their tasting menu.
Following dinner I had the opportunity to explore the restaurant in its entirety. With amazing private dining options both outside and inside (in the hotter months) there are some incredible options for business events, receptions, launches or pretty much any event in a beautiful setting.
Moving on to the impressive bar inside the venue, we were introduced to the head mixologist who treated us to a selection of amazing cocktails and one of the most espresso martini's I've ever had the pleasure of tasting and a Kowloon Cooler. It was a fantastic experience taking some time out to appreciate our surroundings at the bar and to relax and enjoy the atmosphere after dinner. Our mixologist kindly recommended us some bars to visit afterwards too which is always handy as local's know best!
Overall I had a wonderful experience at Hakassan Dubai. I have been to Hakkasan Mayfair and Las Vegas and the Dubai venue is a fantastic addition to the brand. With the option to dine al fresco as well as inside, there is something to suit all tastes however it's important to know that from June-September the outside area is closed due to the hot weather. The staff were all so welcoming and professional and the food was second to none with cocktails created with expert precision.
Everything from moment we arrived to the moment we left was incredible and another great Hakassan experience. A must visit if on holiday or for booking business! Needless to say that I'm looking forward to my next Hakkasan visit, wherever that may be!
Location: Lower Level, Jumeirah Emirates Towers (next to Cartier)
Cuisine: Chinese
Dress Code: Smart casual
Dinner: Serving from Monday to Sunday 18:00 to 00:30
Brunch: Serving every Friday from 12:00 to 16:00
Bar: Serving daily from 17:00 to 01:30
Telephone: +971 4 384 8484
Email: reservations@hakkasandubai.com
Emily x