Step aside Chiltern Firehouse, it's time to welcome some fresh blood onto the scene and Italian powerhouse Fucina is the new Marylebone hot spot.
Fucina – a modern restaurant and lounge with a natural ethos and Italian spirit based only a 5 minute walk from Marylebone, London foodies rejoice! Fucina is your ticket to Italy without having to pack a weekend bag and board a two hour flight across the North Sea.
Let's cut to the chase and talk about every Assistants soft spot – private dining rooms. Private dining options here are fantastic. On the lower ground floor, the venue boasts a beautiful semi private dining room accommodating up to 16 people with a view into the kitchen providing that extra element of excitement. Wheelchair friendly and with menus that be can tailored to suit any dietary requirements or preferences, this really is a private dining room that will impress the fussiest of guests.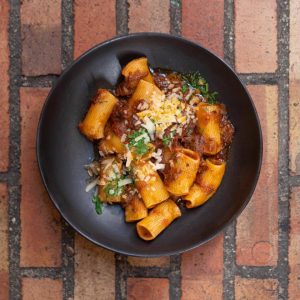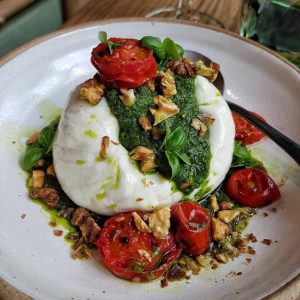 On the ground floor, a cosmopolitan lounge and restaurant transports you into modern day Italy. With stained glass windows, a fresh and crisp colour scheme with small orange trees and candles placed on tables, Fucina is the perfect place for breakfast, lunch and dinner for every occasion.
The menu is nothing short of spectacular. What did we sample on our visit? Whole burrata pugliese with 'Tri Colore' roast cherry tomato, basil pesto, walnuts (v) (£12.50), yellowtail and sea bass carpaccio stracciatella with basil oil, lemon and a hint of shiso (£16.00), rigatoni slow cooked beef ragù with pecorino cheese (£19.50), mushroom risotto with parmesan, parsley and herb oil (v) (£16.50) and finally, the whole wild sea bass with sea salt, olive oil and lemon (£30.00). We have to admit, we were defeated so the dessert menu wasn't given much of a chance however with options like rum pannacotta with pistachio and black berries (£7.50), flourless chocolate cake with vanilla ice cream (£8.00) and cheesecake brulé with raspberry coulis and crumbled pistachio (£8.00) we have a feeling we'll be making a pit stop here after our future shopping trips in the West End.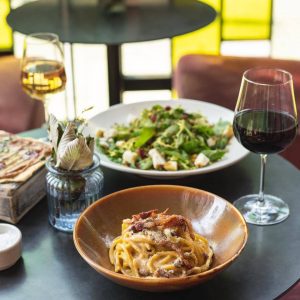 All in all, would we send our Execs here? Yes. Would we organise client events, team celebrations, personal celebrations and general wining and dining with partners/friends/relatives? Absolutely!
If it's a modern, vibrant and authentic Italian you are looking for with incredible customer service and a price point which won't break the bank (it IS Marylebone…), Fucina is ready when you are.