February: Top 5 Private Dining Rooms in New York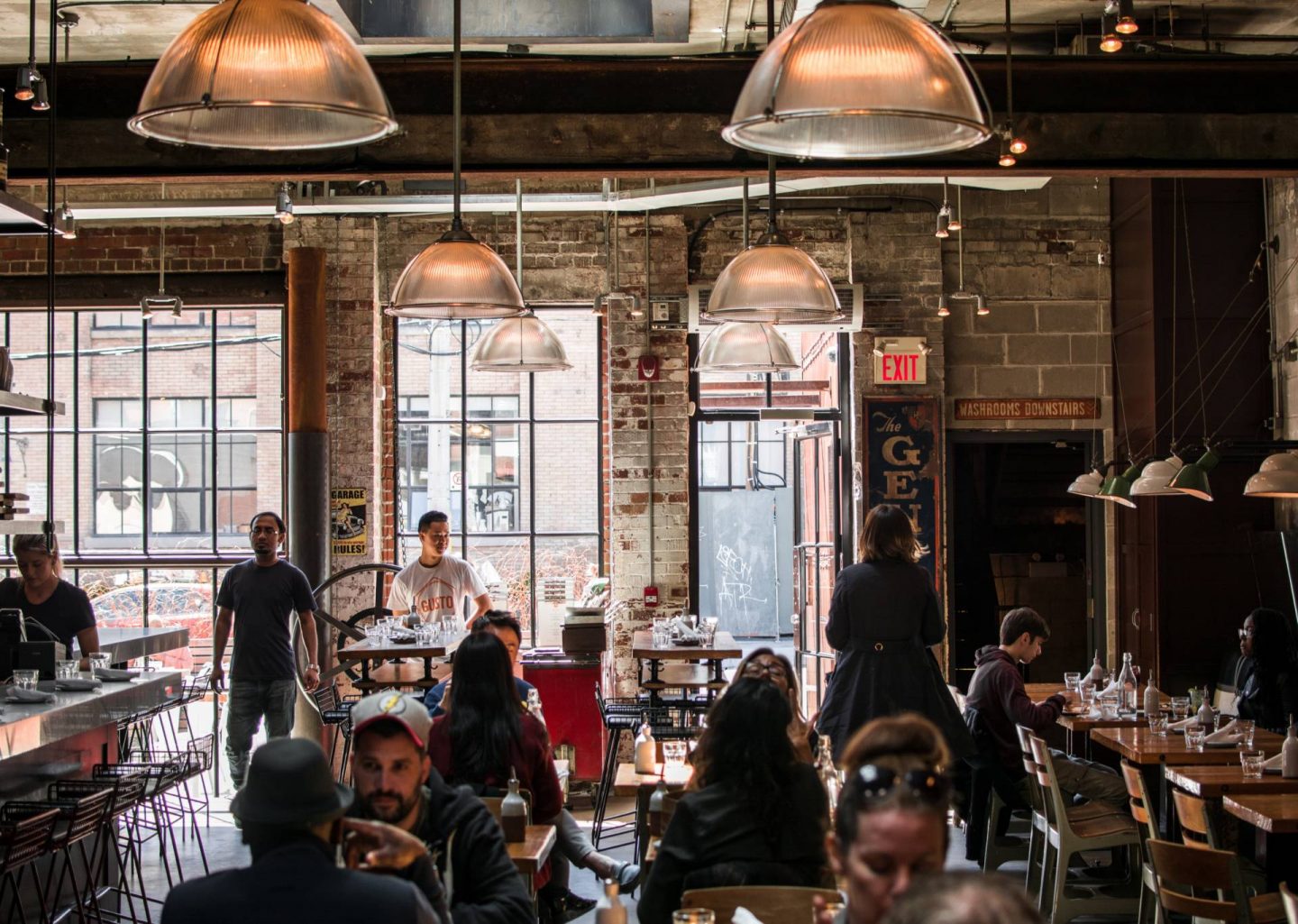 With Execs wanting to dine at the newest, nicest and quirkiest places in cities around the world, it can be hard to keep up with 'what's hot' when you have a to do list that is already keeping you up at night.
With restaurant and new venues popping up every week, here are our top 5 private dining spaces for all of your entertaining (business AND personal) in New York.
The Araminta Room, The Whitby Hotel
18 West 56th Street, New York, NY 10019 T: +1 212-586-5656 E: whitby@firmdale.com | Visit website here.
The beautiful Araminta Room is located on the lower ground floor of The Whitby Hotel and features walling specifically designed by English artist Melissa White. It is flexible in format and can be transformed from a luxurious drawing room to a corporate boardroom, gorgeous private dining table or venue for a cocktail party or product launch.
Capacties
16 for Private Dining
28 for a Reception
25 for Theatre Style
16 for Boardroom
Contact the events team here for more information.
Red Rooster
310 Malcolm X Blvd, New York, 10027 T: +1 212-792-9001 | Visit website here.
Located in the heart of Harlem, Red Rooster serves comfort food celebrating the roots of American cuisine and the diverse culinary traditions of the neighborhood. Named in honor of the legendary Harlem speakeasy that attracted neighborhood folk, jazz greats, authors, politicians and some of the most noteworthy figures of the 20th century such as Adam Clayton Powell Jr., Nat King Cole and James Baldwin.
The venue hosts private events downstairs at Red Rooster in Ginny's Supper Club, a modern reincarnation of the glamorous speakeasies of the twenties. Bathed in a pallet of tans, browns, and touches of red, the event space is considered one of New York City's premiere jazz clubs, making it the ideal venue for a unique special event.
The space includes a private dining room as well as a main room, making it possible to accommodate everything from an intimate plated dinner for 40 guests to a lively reception for 275 guests. Plated, family-style, buffet, and cocktail reception menus are available to choose from. They are also happy to curate a custom menu for brunch, lunch or dinner.
Designed with music in mind, Ginny's Supper Club has a performance space for bands, and also has full DJ booth capabilities as well as a projector screen.
Contact the events team here for more information.
Cecconi's Dumbo
55 Water Street, Brooklyn, NY 11201 T: +1 718-650-3900 | Visit website here.
With waterfront views of the Manhattan Skyline, Cecconi's Dumbo is a modern day classic Italian restaurant open for lunch, cicchetti, and dinner, as well as weekend brunch. Located in Brooklyn Bridge Park, this elegant and upscale restaurant serves high end cuisine and is open seven days a week.
Cecconi's Dumbo NYC serves hand-made pasta, seafood and dishes from Italy using the finest ingredients. In addition to the flagship restaurant in Mayfair, London, Cecconi's has outposts in West Hollywood, Miami, Istanbul, Barcelona, Berlin and in The Ned, London.
The private dining room at Cecconi's Dumbo is a flexible space that can accommodate a variety of events, with indoor seating for up to 40 guests. For intimate gatherings, the room can be enclosed by Venetian curtains.
Contact the reservations team here for more information.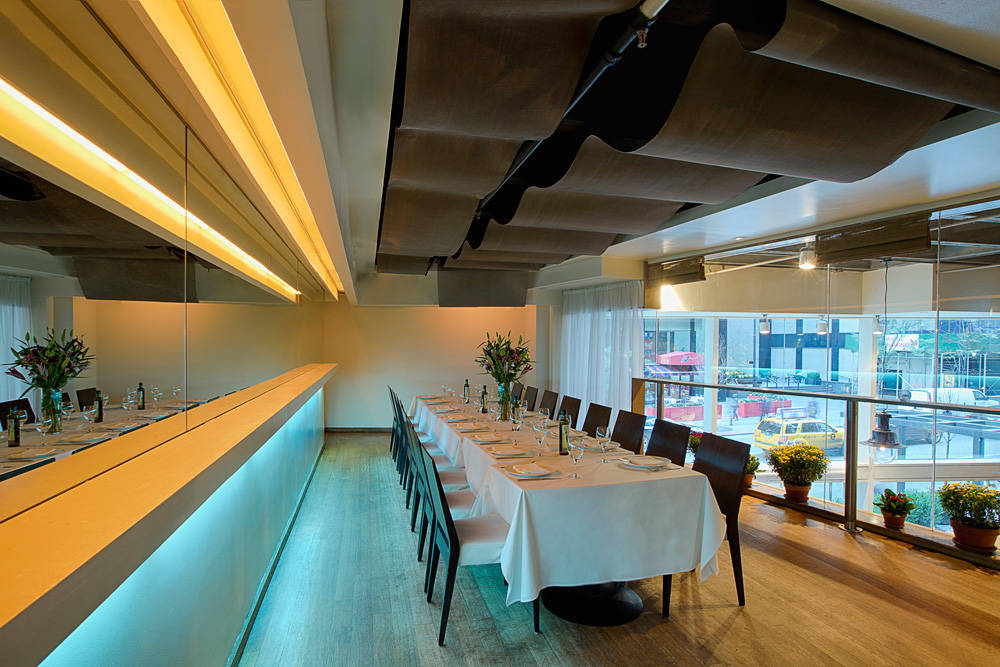 Milos
125 W 55th St, New York, NY 10019 +1 212-245-7400 | Visit website here.
Recognised as one of the finest Mediterranean seafood restaurants in the world, Estiatorio Milos was founded by acclaimed chef Costas Spiliadis who has made it an unparalleled culinary destination in Montreal, New York, Athens, Las Vegas, Miami and London.
Milos New York features a total of six unique private dining rooms on two floors. Their newly finished, dedicated event level has movable partitions allowing you to tailor the space to your exact requirements.
From intimate dinners for 10, seated receptions of up to 400, and cocktail receptions for as many as 750 guests, Milos New York is a great option for your most important special events.
Contact the events team here for more information.
The Black Room, American Cut Steakhouse
363 Greenwich Street,New York, 10013 T: +1 212.226.4736 | Visit website here.
American Cut Steakhouse pays homage to the best original and aspirational New York dining experience, the steakhouse. LDV Hospitality and chef partner Marc Forgione, capture the nostalgic glamour of yesteryear and adapt this ambiance to today's modern social life through these restaurants.
The Black Room is a fully private room located off the main dining room, furnished with a custom round table built to accommodate smaller groups, from 8 to 18 guests. This intimate room is perfect for an executive dinner or special celebration.
Contact the events team here for more information.