Best Ice Cream in London: The Experts Guide
I scream you scream, we all scream for ICE CREAM!
Yes it's hotting up again and we all know what that means……ditch the 3pm office cakes and grab some ice cream for much-needed sugar rush to get you through the end of the hot days.
Ice cream is one of my guilty pleasures, often demolishing a tub at home in front of the TV but when you're in the office and feel the need where would I go? I'll tell you. Here's my top 5 spots to grab the ice cream of dreams in London…
Snowflake Luxury Gelato
Ok so not only is it basically under my office in Soho it really does serve THE BEST gelato possibly ever! These mounds of glory are completely handmade with some of the world's finest ingredients including milk from a family run farm in Somerset and nuts from the Italian mountains. The variety of flavours include Oreo, Biscotto, Strawberry Cheesecake, Lime and mint, raspberry sorbet's, the list is endless and I'll often spend at least 15 minutes sampling and deciding.
As well as the bestselling gelato you can also get your hands on mini handmade treats; macarons, cookies, milkshake, luxury sundaes, waffles and crepes. If you have the time it's definitely worthwhile eating in and trying some of the other delicious options they offer. Their boutiques are located in Soho, Selfridges, Bayswater, South Ken and Bicester Village but don't fret!……If there's not a Snowflake local to you, of course, there's Deliveroo and Snowflake also offer delivery for something more bespoke.
And to top it off, planning the summer party make sure you have The Gelato Cart or even host an event in one of the boutiques. They are very accommodating and flexible, I mean what more can you really want? (maybe a permanent cart that follows me around all day).
Greedy Goat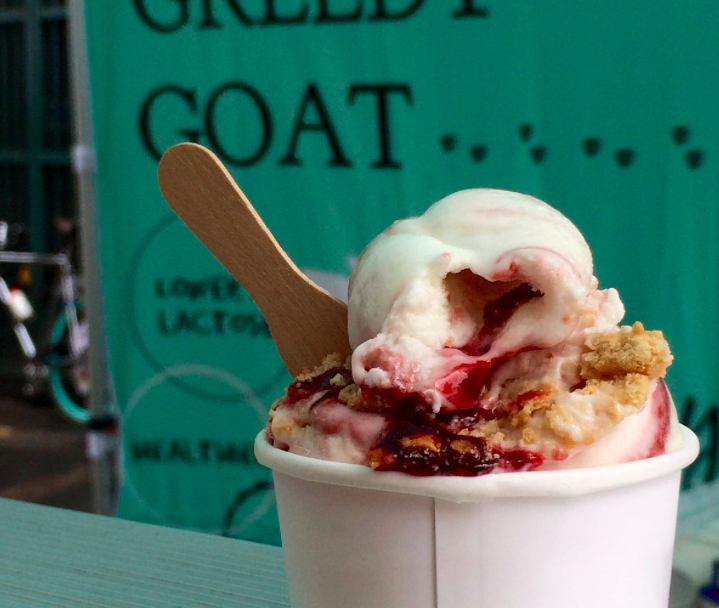 Dairy Free? No you don't have to stick to 20p watered down ice polls from the corner shop. Greedy Goat's delicious ice cream is made with goats milk so it's lactose friendly and healthier; gym bunnies get down there for a non-guilty pleasure. I hear you thinking but what's it going to taste like?
These ice creams most certainly do NOT lack in that creamy dreamy taste that you expect and ingredients are 100% British produce. Flavours range from Cappuccino and Wild Strawberry to the more adventurous Raspberry and Chilli and my personal favourite Gin and Tonic. Talk about tick the boxes of what do we need in the sunshine and Gin and Tonic Ice cream.
So where is the Goat? The Goat is located in Borough as well as hosting a gazebo on Leather Lane Market so head on over there for some goat guilt free yumminess. Again if you can't get to GG itself you can contact them and pre order ice cream pits for delivery or if you have an event they will be at your service.
Magnum Pleasure Store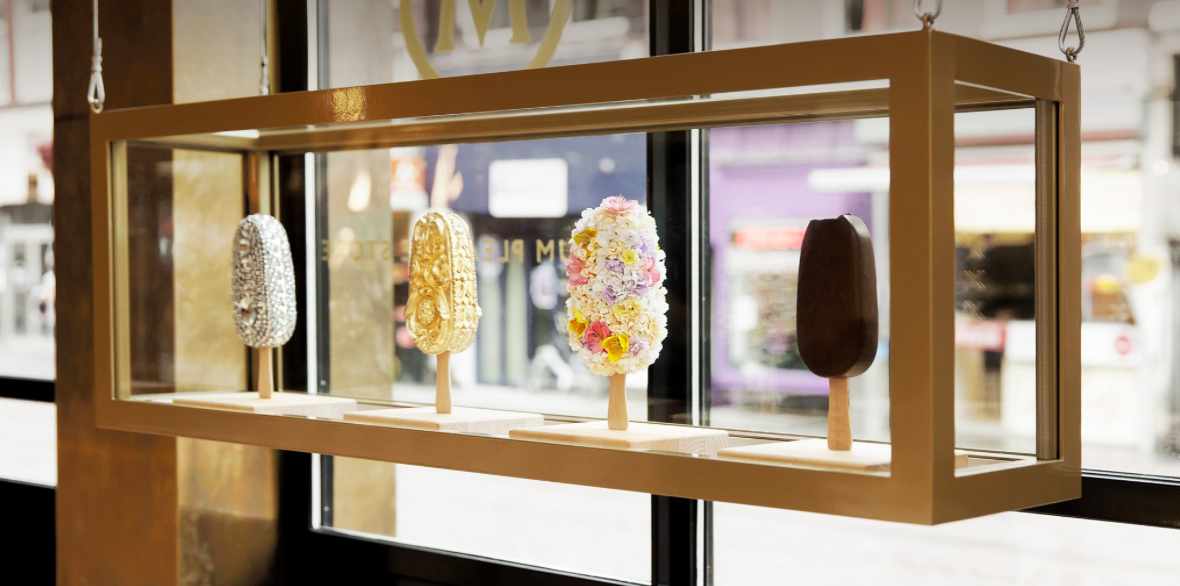 Ok you've probably seen a lot about this bad boy on social media recently but it's most definitely got to make the top 5. Firstly you can't go wrong with a Magnum and but what if you could create the Magnum of your dreams? Now you can.
So choose your indulgence starting with your chocolate covering, milk, white, dark, the choice is yours. Then here's the fun part; go to town with toppings whether your aiming for top taste or going for a decorative effect there's literally so much to choose from.
Create one that says something about you. Then for the best part, have your magnificent magnum creation papped and ready for you to upload on insta immediately. This is the point where you are so thrilled with your masterpiece you just want to look at it rather than eat it but then you remember how bloody great it is and demolish it. So Magnum is on the list for the fun factor that's for sure.
Visit your nearest Magnum Pleasure Store here.
La Gelatiera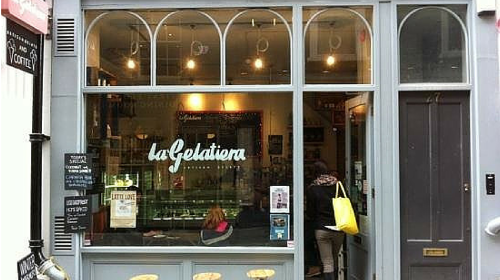 This place offers award winning (literally) scoops of creamy gelato all made fresh on a daily basis with 100% natural ingredients, free of anything artificial and is egg and gluten free and sorbets are free of any animal content so are suitable for the vegans of London.
Flavours are pretty out there including Fresh Watercress and Lime and Basil and Chilli as well as Sicilian Pistachio Sorbet. The flavours also change on a daily basis and are seasonal to keep you going back all year round.
As well as the dreamy cream they also serve take home tubs (yes), waffles and pastries and some impressive Gelato Cakes. Gelatiera offer catering for parties ad events and pop up stalls at various locations.
Their stores are based in Covent Garden and in Stratford, if your nearer East then you can enjoy seeing how the gelato is made via the in store "theatre" but I'd suggest you don't try it at home because it won't be as good.
Yorica
Now technically isn't allowed on the Ice-Cream list but I'm allowing it because it's damn good and I said so. If you need an alternative to ice cream without lacking taste then Yorica can answer all of your Froyo prayers.
All recipes and ingredients are free from wheat, gluten, dairy, eggs and nuts and all entirely vegan.
Bye-bye allergens and intolerances. Yorica offers Froyo, Ice Cream and shakes, all free from and delicious. You also have the option to choose your yummy froyo flavour and then a topping and a sauce, we all like being in control. These guys are based in Soho but if you need a from from treat and can't make it to store then you can order delivery via Deliveroo and Uber Eats. For events Yorica literally have THE coolest VW camper kitted out and ready to serve their tasty treats and you can also create your own bespoke flavours to order. Get involved.
So that's my top 5 places for everything icy, creamy and dreamy. Goodbye Mr Frosty!
Emily x
.