8 Female Content Creators to Follow Right Now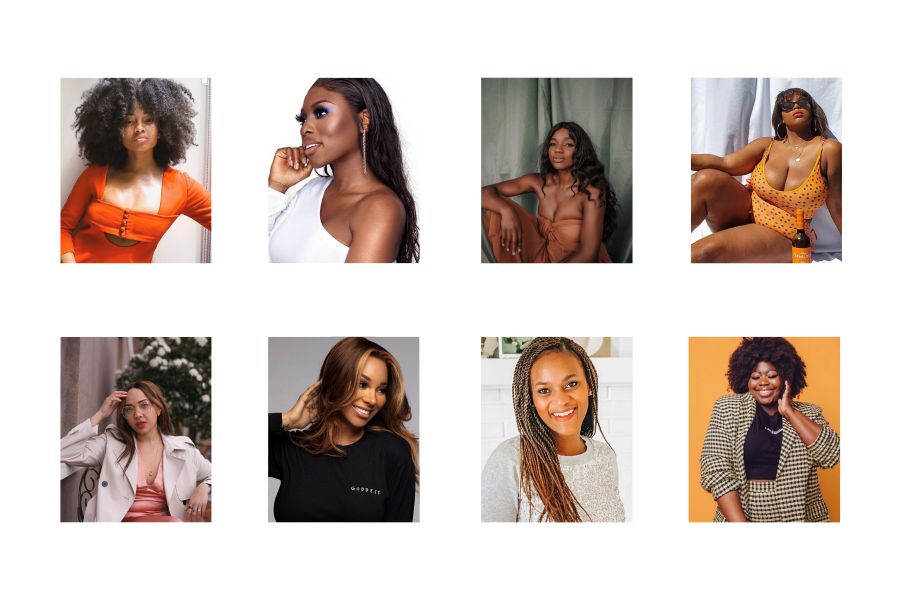 Social media to many means community, a source of inspiration, motivation and escapism. To others, the gross lack of diverse representation from brands across the world is being called out now more than ever. People are taking ownership of their new influencer title, harnessing their power and abilities to enact change in ways we have never seen before.
To give you a head start on freshening up your social media feeds, check out the 8 incredible ladies we have been girl crushing on for as long as we can remember.
1.
Why we love her… A multi-award-winning plus-size style blogger, freelance journalist, public speaker and soon to be published author of her first book 'Fattily Ever After', there isn't much that Stephanie Yeboah shys away from. Her relentless and enviable girl boss mindset has seen her feature in publications including Glamour, Refinery29, Bustle, Stylist, Cosmo and more with body positivity at the core of what she does.

Follow Stephanie on Instagram, visit her website, and pre-order her book Fattily Ever After on Amazon here.
2.
Why we love her… One of our favourite content creators, Simone is the brains behind a simple yet beautiful feed full of inspiration to embrace who you are. With her amazing motto of celebrating bodies no matter what weight, size or colour, we could all do with a more regular dose of Simone in our lives.

Follow Simone on Instagram.
3.
Why we love her… Fighting stereotypes left, right and centre Munroe Bergdorf is a force to be reckoned with. Founder of the Goddess Platform, UK changemaker for UN Women UK, Patron of Mermaids UK and LGBTQ+ Editor at Dazed Beauty, Munroe is passionate about educating others on race and identity. Having produced her own documentary on Channel 4: What Makes A Woman? Munroe is a true ambassador for embracing your true identity whoever you are.

Follow Munroe on Instagram and visit here website here.
4.
Why we love her… Jehava is the owner and creator of OnlyGirl4Boyz. A stay at home Mum of 3 boys, she is a shining beacon for many women on their journeys in marriage, motherhood, and friendships. With an honest perspective on life as a Mum in the United States, Jehava has worked with brands including Kalahari Resorts, HelloFresh, Dyson and many more with a business she has single-handedly built from the ground up.

Follow Jehava on Instagram and visit her website here.
5.
Why we love her… Fashion and beauty creator + Founder of her own jewellery line Sammi Maria Jewellery, we have watched how her influence and following has grown over the years. Balancing two businesses with a YouTube following close to 2 million and a young family, we adore everything Sammi puts out into the universe with an infectious and honest energy that will, without doubt, bring a smile to your face every day.

Follow Sammi on Instagram, browse her jewellery line and visit her website here.
6.
Why we love her… Where do we even start?! Asiyami Gold is just that…GOLD. A creator and influencer that we utterly adore, her ability to blend design, photography, and travel she weaves wanderlust with elegance. Her beauty and passion for life permeates throughout all of her work with a feed that will leave you reignited with energy to be the best version of yourself. With a strong reputation amongst brands, Asiyami has been sought after by GAP, J.Crew Pantene, VOGUE, and more.

Follow Asiyami on Instagram and visit her website here.
7.
Why we love her… The OG, the one that all serious UK bloggers and content creators turn to for a lesson in business, we could not create this list without including the online fire that is Patricia Bright. Mum, YouTuber, serial entrepreneur, SavagexFenty ambassador, Patricia is a no-nonsense, straight-talking, relatable modern woman with one thing on her mind, success.

Follow Patricia on Instagram and visit her website here.
8.
Why we love her… With an aesthetic that would make most jaws drop, Candace describes herself as a true advocate and curator of minority creatives in the luxury and digital space. Through her respected voice in the industry she champions for people of colour behind corporate walls – where change is needed the most. Having worked with brands including Chanel, Laura Mercier, Barneys and more, Candace is well known by businesses around the world committed to making a change in alignment with her vision for the future.

Follow Candace on Instagram and visit her website here.