Eating at: XR, Marylebone London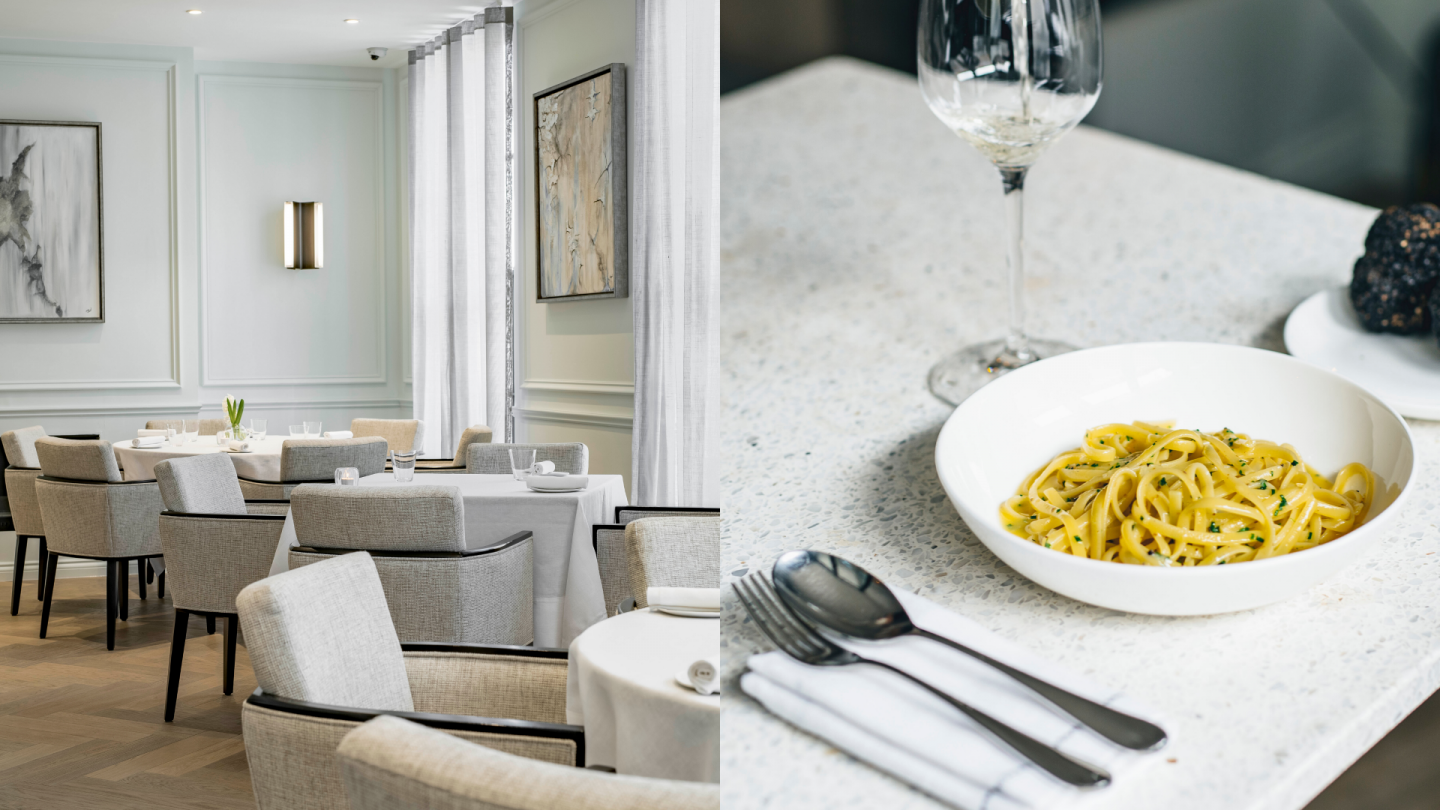 Take a short stroll along Marylebone's Thayer Street and you'll stumble upon the incredible, Angela Hartnett trained Carlo Scotto's debut twin-pack restaurant, XR & Xier. A two in one restaurant, on the upper floor is Xier, a fine dining experience with XR, the more informal sister on the ground. If the gorgeous flowers that encase the outside terrace isn't enough to pull you in then Scotto's impeccably sourced ingredients and creative flavour pairings ought to do the trick.
Open for lunch and dinner from Tuesday to Saturday, and for lunch only on Sunday, XR champions fresh, vibrant flavours in a relaxed yet stylish setting. Focusing on seasonal produce from organic farms across the British Isles, Chef Carlo's menu is constantly adapted to reflect the best, high quality produce available week-by-week.
When it comes to the décor, XR is elegant yet inviting. Blush pink walls are adorned with deep blue panels for the perfect contrast, complete with bold statement artwork for a stylish finish. Upstairs, Xier's interior takes a minimalistic but luxurious approach with shades of grey, white and cream covering the spacious but intimate room.
The menu at XR is made for sharing, with seasonally changing plates that are perfect for get-togethers with family or friends. Influenced by global flavours, particularly from Scandinavia and Japan, classic dishes are elevated by Chef Carlo Scotto's innovative use of ingredients.
Flavour is at the forefront of XR, and this is carried through to the carefully curated selection of premium wines and unique cocktails. Sommelier Fillipo Carnevale is on hand to pair the perfect vintage to any dish, whilst the expertly trained bar team have created a show stopping menu of creative serves to satisfy any cocktail connoisseur.
Upon entering on a Wednesday evening, we were immediately greeted with a warm welcome from the waiting staff and the incredible aroma of modern European cuisine.
To start with we ordered the burrata accompanied by broccoli and anchovies (£12) and XR taco's filled with grilled avocado, lettuce, halloumi, corn and XR salsa (£8). Within 10 minutes, the two dishes were swiftly brought out and placed in front of us. Stand out starters include the burrata with broccoli and anchovies; lamb sliders with gruyere, onion and tomato jam, pickles and kewpie mayo; and truffle and mushroom arancini.
For our main course we ordered a sharing dish; The t-bone steak which came with two sides of our choice – truffle fries and spinach and peppers (£85). Showstopping mains such as sea bream with fennel and orange salad; and autumn black truffle and basil pizza, are sure to impress. Larger dishes – designed to be shared between two or four – include a buttery 1kg roasted tomahawk; and a whole sea salt crusted seabass. A selection of sides is also available, from padron peppers, french fries and roast potatoes.
Moving onto drinks, the cocktails are to DIE for! An excellent recommendation from our waitress landed us with our first cocktail of the night, titled 'Ray of Sunshine'. This exuberant drink captures the feeling of a perfect spring afternoon complete with vibrant tastes of grapefruit layered upon a base of gin, topped off with beautiful flowers that float along the surface. Signature mixes include concoctions such as the Manzanita, made with Absolut Elyx vodka, absinthe, apple liqueur and passion fruit.
So what's our final verdict? Did XR live up to our expectations and is it worth jumping on the tube to Marylebone for your next Exec board dinner? Yes, yes and yes! Whether you are looking for a relaxed evening or fine dining experience for you or your boss, Carlo Scotto's double headed restaurant should definitely be at the top of your list.
Venue information
Address: 13-14 Thayer St, Marylebone, London W1U 3JR
Telephone: +44 207 486 3222
Website: https://www.xierlondon.com/
The Assistant Room Membership
The Assistant Room Membership – the place where assistants from around the world come to connect, build and grow.
Save time, be more organised and say hello to your new community. Develop your professional skills with lifetime access to our learning and development area and meet your new mentor/business coach.
Join our exclusive membership to supercharge your career, build your community, grow your confidence with new skills and be rewarded for being an assistant.