Eating at: Venetian Tapas at Veneta St James's SW1Y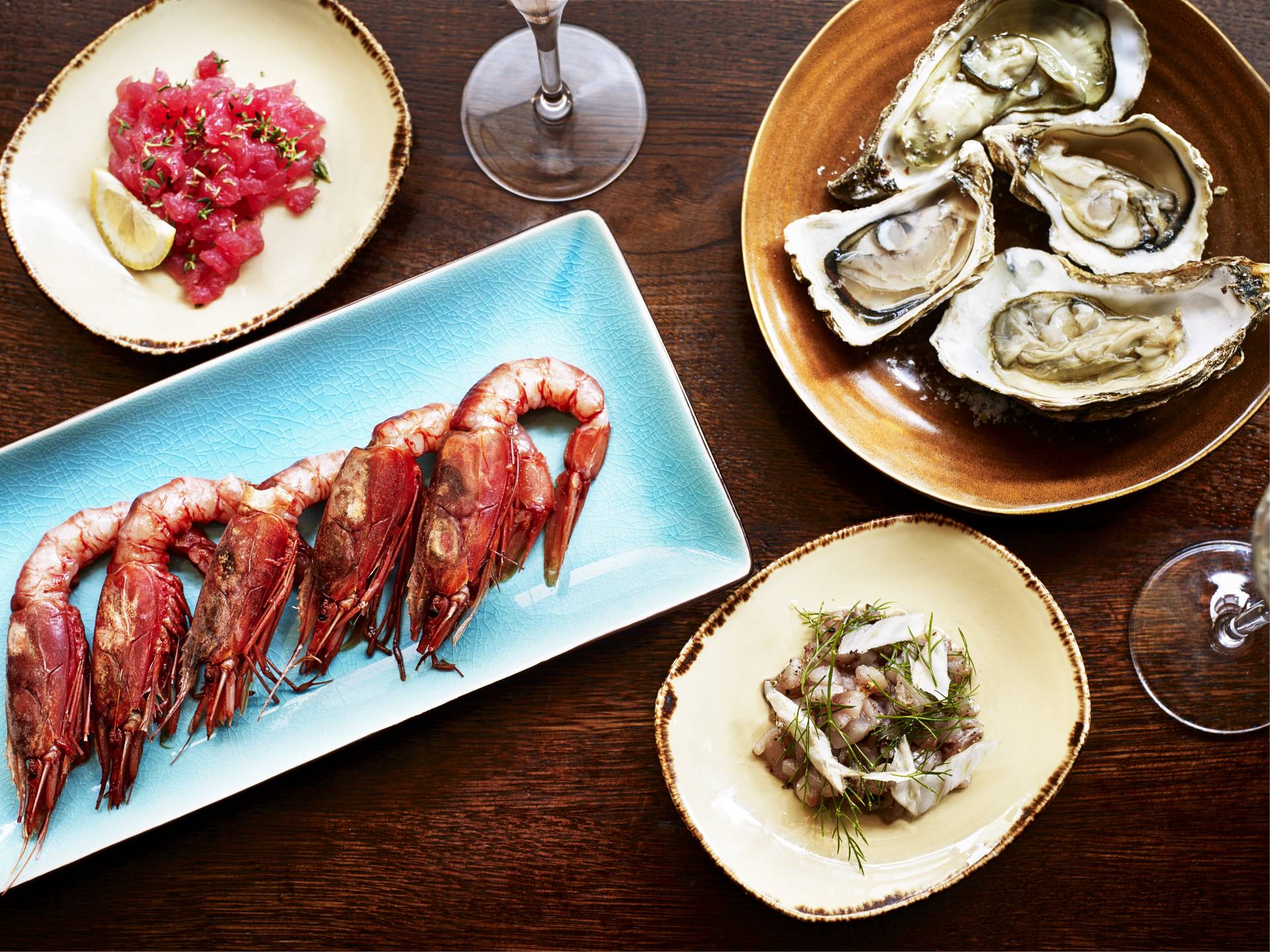 7th November 2016, D-Day for Simon Mullins and Ben Tish of the Salt Yard Group as they opened Veneta, not your ordinary restaurant but a Venetian nirvana in the stunning new and swanky St James's Market development sitting in prime location alongside the Haymarket. Inspired by the timeless magic of Venice, the restaurant is the ultimate showcase of the very best of Venice's vibrant culinary scene, with a menu that pays homage to the city's eclectic mix of cultures and cuisines; a drinks list that features carefully sourced vermouths and aperitifs of the region; and a glamorous interior design befitting of La Serenissima.
In keeping with the opulent glamour of the Italian city, Ben and Simon have created an enchanting space to dine in at Veneta, hitting the nail on the head when it comes to a classic yet contemporary elegance that you would expect from a modern day restaurant set slap bang in the middle of one of Londons most refined areas. Seating an intimate 110 covers and comprising of a mix of classic bar-counter seating, banquette booths and intimate tables, the main dining area at Veneta benefits from impressive double-height ceilings adorned with handcrafted ironwork chandeliers from Matt Livsey Hammond, while specially-commissioned oil paintings and glasswork from Ramon Otting reflect the distinctive hue of water that surrounds the city. The creation of this restaurant has been expertly handled by those who are meticulously brilliant in their work making every aspect of the interior at Veneta breathtakingly beautiful. A delicate stairway with intricate detailing leads guests on to the mezzanine floor of the restaurant; a space that provides a vantage point over the bustling floor below, and that is also available for exclusive hire and private parties. Hurrah!
Outside the restaurant an extensive terrace area on the pedestrianised St James's Market provides the perfect spot for guests to enjoy the culinary delights of Veneta while watching the world go by however on the occasion that I visited. Londons weather ran true to form and left my fresh blow-dry wet and limp as I entered through the front door of this very much still new establishment to tuck into dishes that I heard would get me booking my next visit in before I had even left.
Seated and left to peruse the menu in detail to make our choices by the wonderfully attentive staff who were perfectly presented, it became evident very quickly that this was not a menu to be messed with. With a nod to Venice's pivotal location on the silk and spice trade routes, Chef Director Ben and Head Chef Jamie have created the menus on offer inspired by the city's rich culinary heritage featuring dishes such as Kid goat ragu with fresh pappardelle; Charcoal grilled monkfish with anchovy sauce and salsify; and Chicken braised in almond milk with Medjool dates and saffron. What is even more exciting is that a classic Venetian raw bar takes pride of place behind the beautiful bar, offering an ever-changing selection of British and Venetian seafood, something that they execute better than many raw seafood bars I have ever come across in London.
In all honesty, I have never read a more beautifully curated list of dishes with such a wonderful array of ingredients and different components to each plate on offer. It's rare that you find a menu that before you know it, 10 minutes has passed and you are still reading, not out of difficulty to get through a long list of very standard and boring menu options but out of curiosity and excitement to try and somehow chose only 2-3 small plates per person.
Fighting my inner voice goading me to order the entire menu, the starter was a classic choice of Foccacia and Olives. Ok so that doesn't sound particularly exciting but if you are a bread connoisseur and give bread making a good bash in the kitchen now and then, you will know (unfortunately how I know) that making the perfect loaf is no mean feat. Well…it may only be Foccacia but hats off Veneta, I have never had a nicer slice before, something that I raved about to the wait staff who I think were taken aback by my eagerness for something so simple. Olives were not pitted but came with a small bowl to stash those annoying stones in, something that many places and especially chain tapas restaurants always forget. Manners first, no placing those stones in your napkin as I always end up doing!
Next came our main course options which we ordered from the small plates menu…
Veal and Pork Sausage with Creamy Polenta and Marinated Radicchio –
A beautifully presented menu choice with the most divine aroma which immediately gets your curiosity going. I personally am not a huge lover of pork however when in Rome! Or shall we say Venice on this occasion… The sausage was fantastic however it had a very strong taste mainly I think due to the mix with Veal therefore if your tastebuds are slightly sensitive, I would recommend that you request this to be served to you as your last option as you may find the taste lingers and only really disappears after a glass of wine or two…hard life!
Spiced Lamb Gigot with Swiss Chard, Tomato, Lamb Fat Potatoes and Caprini Fresco –
Again, incredibly well presented and almost too beautiful to eat! The lamb was cooked perfectly however if you are not a lover of your meat being pink, you will need to mention this to the wait staff upon ordering. This dish speaks for itself…
Burrata with Pink Radicchio, Blood Orange, Agretti and Focaccia Croutons –
My favourite dish! I could have eaten 10 of these and can see myself going back to sit myself at the bar and devour this plate over and over again with a glass of wine. Fresh, creamy, amazingly presented. I am a big lover of anything that tastes fresh and strangely…cold? This is the knockout dish for me and if there was only one reason to return, it would be for the Burrata.
White Polenta with Girolles and Parmesan Cream –
A definite winner for those of you who are vegetarian however very rich so don't go in too quickly with this! Take your time and really get to grips with the beautiful and indulgent flavours that this perfectly executed Polenta dish offers! As with the Burrata, I could eat this over and over and over…wheres my phone? I need to make my next reservation?
Triple-cooked Chips with Spiced Salt, Aioli and Salsa Verde –
Always a winner, they speak for themselves!
It goes without saying that this was one of the most enjoyable meals I have had for a good while and as well as the plates that we tucked into and the menu which we made our way through, there is also a changing menu of handmade pasta dishes, including the Venetian classic "Bigoli", and delicious seasonal risotto which you can request cooked to order. What really blew me away more than the amazing service, the beautiful interior and the fantastic food was the cost! And no, I do not mean that the bill came to £200 as you would expect, I am talking no more than £4 – £9 per dish and considering we ate mainly from the vegetarian menu we were not left with a hole burnt in our pockets and could even afford a drink or two after work that evening with friends.
In addition to what is already an amazing restaurant, Veneta is the first in the Salt Yard family to offer guests an all-day dining experience serving both indulgent and healthy (yes please!) options for breakfast, including fresh fried fritelle with jam, chocolate and saffron custard, Burrata with roast plums, hazelnuts and tarragon; Smoked Scottish salmon, black truffle butter, scrambled eggs and polenta brioche; and Baked eggs with spinach, tomato ragu, speck and basil.
I really am truly excited to revisit Veneta and whether you are looking somewhere to book in a meeting or breakfast/lunch/dinner, organising a client night out with a difference, trying to find a venue for team drinks and or just cocktails with you and the girls, this would be my 'go-to' option for your St James's based adventures. You never know, we may bump into each other at the bar. Just don't judge if I'm a few glasses of wine down and all Burrata'd out…
Visit their website here – www.saltyardgroup.co.uk/veneta/
Call them directly on – 0203 874 9100