Review: The Bloomsbury Hotel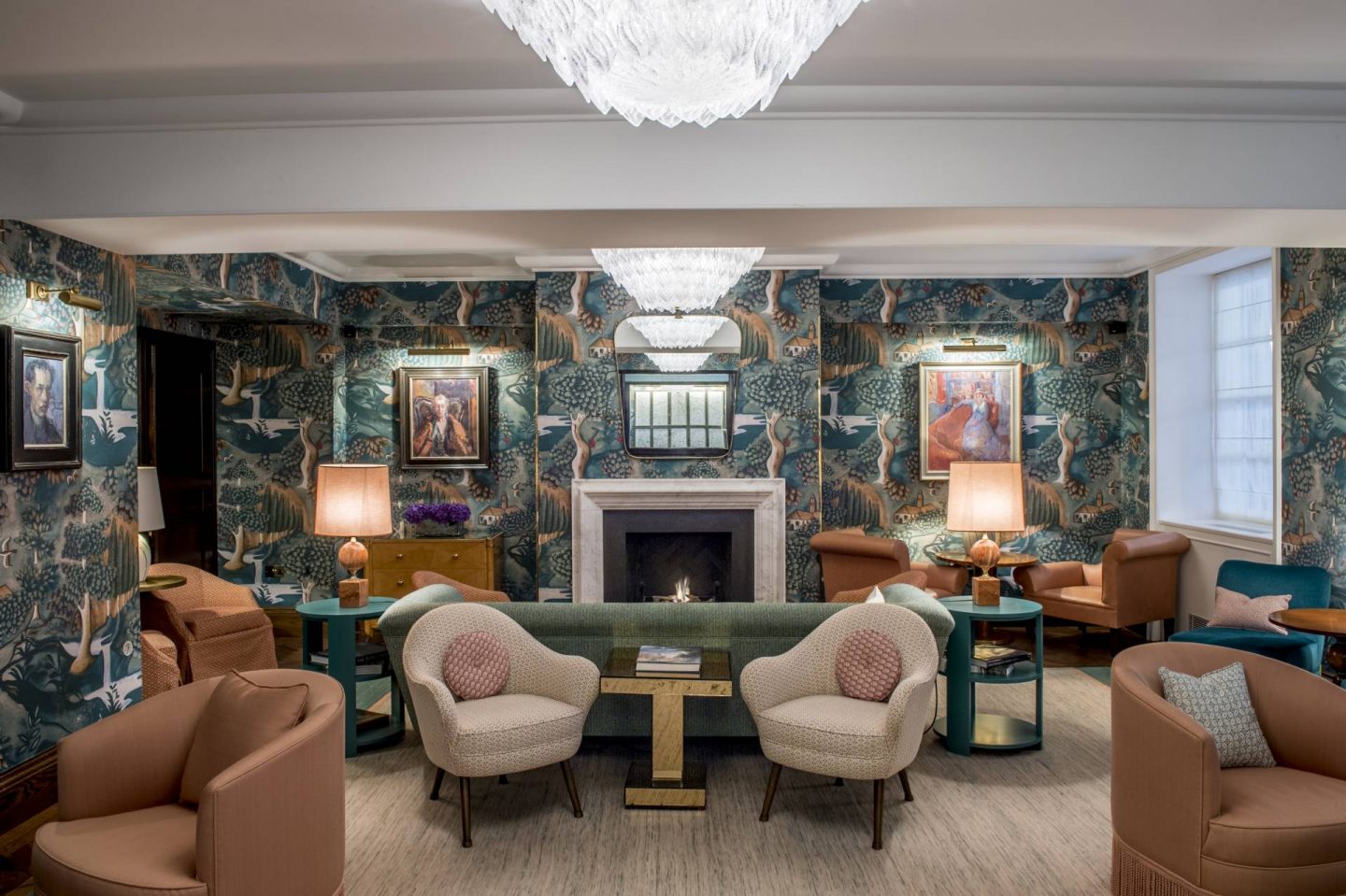 A slice of heaven in the beating heart of London's West End, the magnificent Grade II-listed Bloomsbury Hotel sits tucked away in Fitzrovia, a literary heartland filled with galleries, antiquarian bookshops and a wealth of cultural heritage.
Following a multimillion-pound redesign, the Bloomsbury Hotel exudes creative sophistication with stunning details throughout. With a total of 141 bedrooms and 12 suites, 7 event spaces, 2 bars and what is described as the most 'Instagrammed' and sought after dining spots in London; we spent a night at The Bloomsbury to explore every corner and see if it really lived up to expectations.
With renovations having included input from renowned and internationally acclaimed designers, artists and creatives, the restoration of The Bloomsbury took inspiration from the lives of the famously hedonistic Bloomsbury Set. A group of associated English writers, intellectuals, philosophers and artists in the first half of the 20th century, including Virginia Woolf, John Maynard Keynes, E. M. Forster and Lytton Strachey, there is a unique story that follows you throughout your stay.
Entering through The Coral Room, guests are transported away from London life into the warmth of the hotel's grand salon bar. Appropriately named, The Coral Room features vibrant floor to ceiling panelling with a showstopping bar as the centre piece and a drool worthy cocktail menu to match. Bringing old school romance, glamour and the magic of a bygone era to the entrance of hotel, The Coral Room was designed in collaboration with the internationally acclaimed, Martin Brudnizki Design Studio and features 36 original pieces of art commissioned with English illustrator Luke Edward Hall. A perfect location for everything from pre-dinner drinks, to cocktails after work or afternoon tea, The Coral Room perfectly set the scene for what was one of the most memorable stays we have had in London yet.
Checking in effortlessly with the exceptional hotel team, our studio suite was immaculately presented. Located on the corner of the hotel directly above Great Russell Street, the non-existent noise from the street was unexpected and immediately noticeable. With an amazing amount of space, light and views, The Bloomsbury takes studio living to the next level with an elegant yet lavish vibe. Slick blinds and parquet floors, statement wallpaper, lantern lampshades and vintage-style upholstery create an unforgettable guest experience defined by luxury and elegance. Luxurious Italian marbled bathrooms, complete with walk-in shower and free-standing bath is the cherry on top of an already outstanding and memorable guest experience. The bed and pillow menu? 10/10. The in-room amenities including Dyson hairdryer, well stocked mini bar and welcome bundle? 10/10. The urge for us to stay and attempt to claim squatters' rights? 100/10.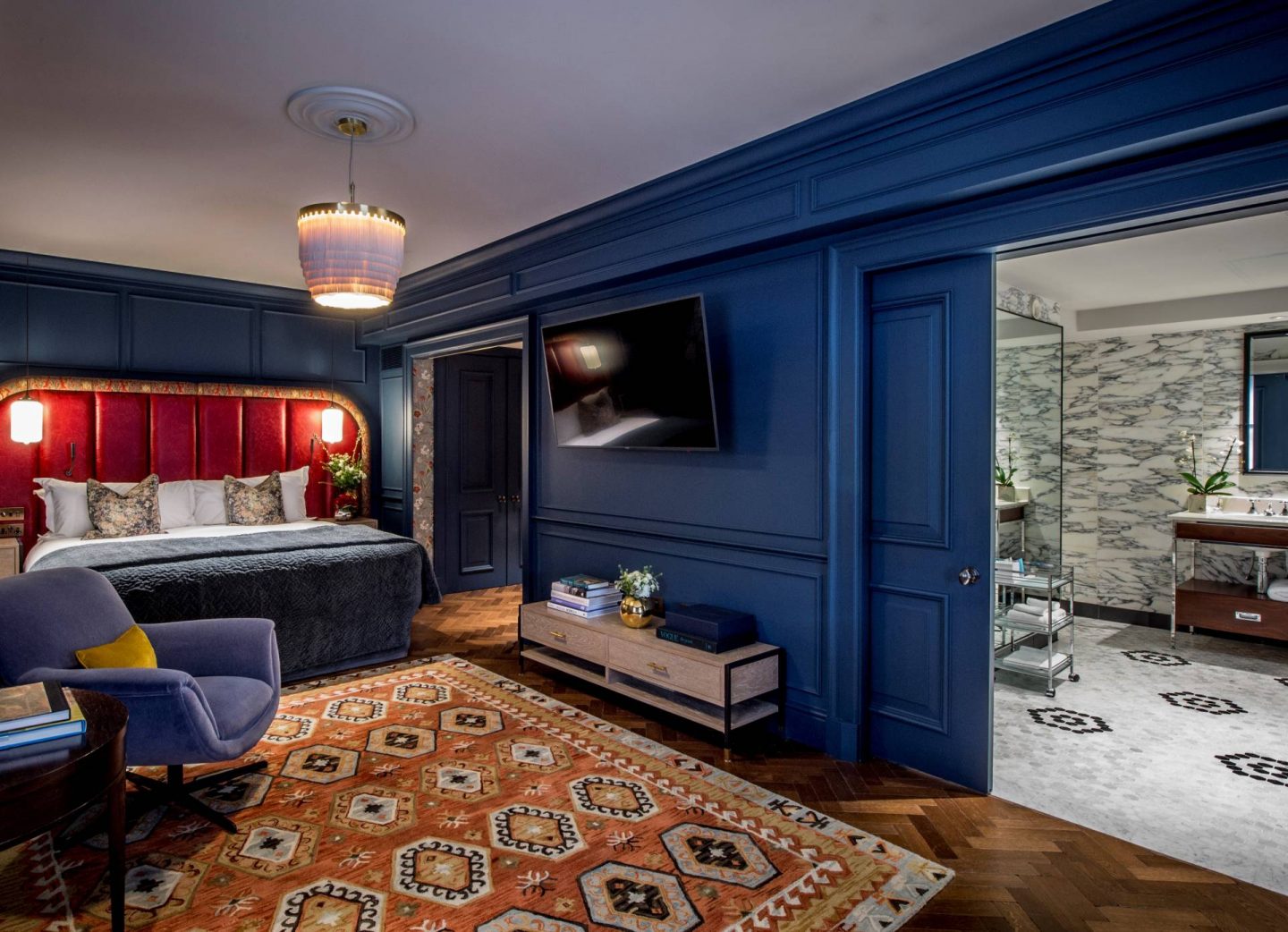 Exploring the hotel, 7 onsite event spaces cater perfectly for everything from private dining events, board meetings to large conferences and parties. With a robust commitment to sustainability and environmental responsibility, The Bloomsbury's impressive selection of meeting rooms include our previously voted 'venue of the month', the iconic George V ballroom. Recently renovated, there isn't a space like it in London. Inspired by the intrepid adventures of King George V, hand painted wallpaper featuring tropical animals adorns the walls with crystal chandeliers providing light a 300 person capacity room. View all event spaces at The Bloomsbury Hotel here.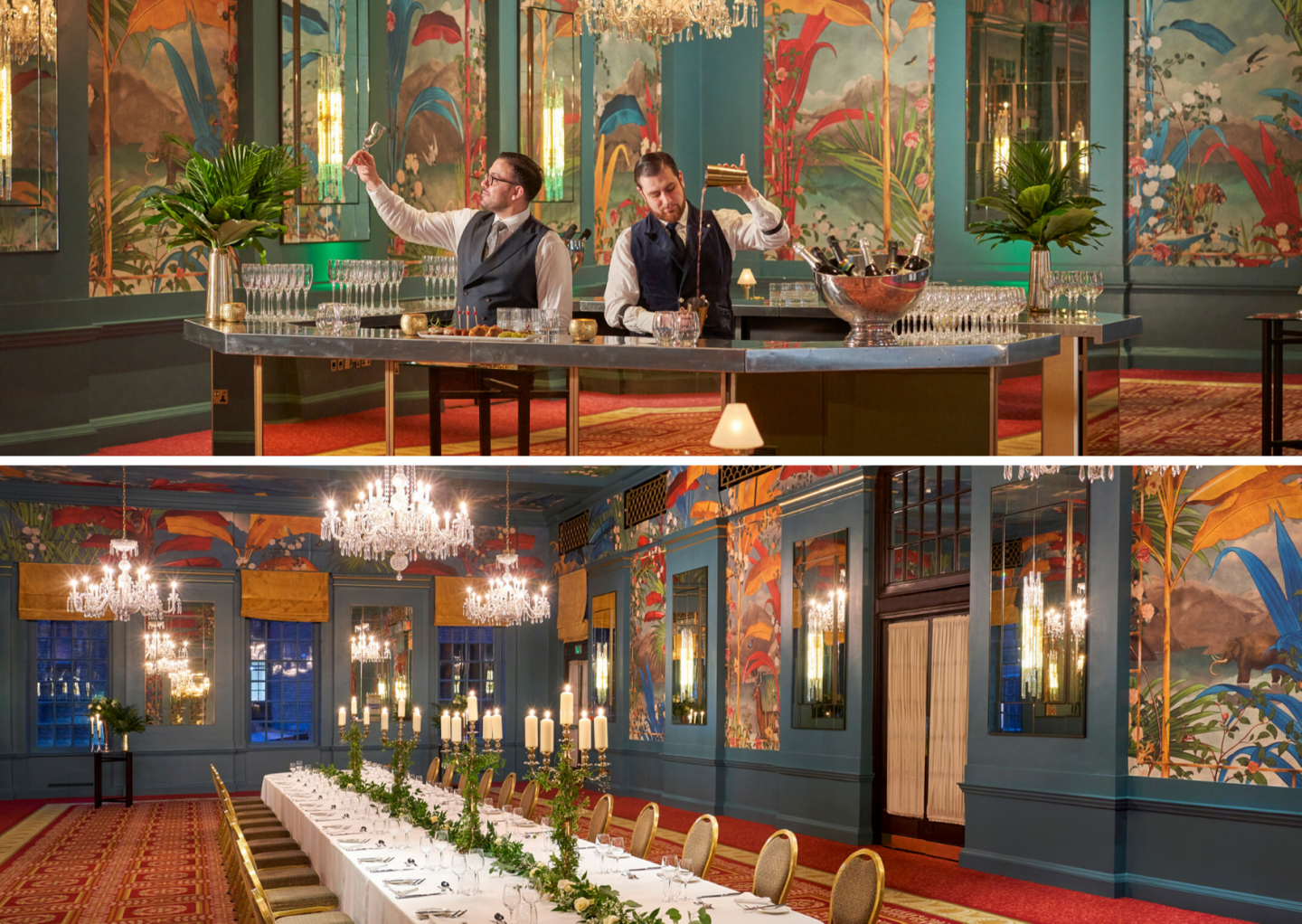 If unique experiences are your thing, you need to organise an exciting team event or you're just bored of organising the same old activity for your colleagues and Directors, the infamous Bloomsbury Club Bar will tick every box and more. Taking inspiration from the spiritual interests and beliefs in an inter-connected universe adopted by the Bloomsbury Set, a Cocktail Diviner may be brought to your table to reveal your hidden emotional state and ensure you are prescribed exactly the right tonic or antidote for your mood. For those who are unsure of what they are getting themselves into, the specially designed tarot card menu designed in 1910 by bohemian occultist Pamela 'Pixie' Colman Smith, perfectly describes the cocktail chosen by the Diviner. If melancholy has descended upon you, a sip of Persian Mist will lift your heavy spirits. The ingredients in Forbidden Fruit will turn your idle desire into enduring love, while Painted Veil curbs your anxiety and Flaming Venom banishes away envy.
With live jazz and a menu with perfectly sized small plates to accompany your drink of choice, the Bloomsbury Club Bar is popular amongst locals and guests so be sure to secure your place early!
Earning its place at the top of our recommendations list for hotels in London, The Bloomsbury Hotel is the solution to every discerning Executive Assistants event brief in the city and beyond. Would we stay again? Easy…is snow white?
Venue information
Website: https://www.doylecollection.com/hotels/the-bloomsbury-hotel
Location:
16-22 GREAT RUSSELL STREET
LONDON WC1B 3NN, UNITED KINGDOM
By Phone:   +44 20 7347 1000
By Fax:   +44 20 7347 1001
Email: BLOOMSBURY@DOYLECOLLECTION.COM
The Assistant Room Membership
The Assistant Room Membership – the place where assistants from around the world come to connect, build and grow.
Save time, be more organised and say hello to your new community. Develop your professional skills with lifetime access to our learning and development area and meet your new mentor/business coach.
Join our exclusive membership to supercharge your career, build your community, grow your confidence with new skills and be rewarded for being an assistant.