Eating at: Mews of Mayfair
Perfect for:
Al-fresco dining, lunch, cocktails, private dining
Nestled away in a little court yard adjacent to the world famous Bond Street, Mews of Mayfair sits proudly as one of the top British brasseries in the area. With some of the wealthiest visitors in London as regulars to this beautiful venue and with it being named by Jenson Button himself as his favourite restaurant, Mews of Mayfair perfectly executes its air of exclusivity without charging an absolute fortune for the pleasure of having you there.
This week there have been a few moments which remotely resembled summer weather and so naturally I took a trip down to the Mews with a very good friend who you all should know, Emily from Wagamama (see her PA diaries here) for a summer soiree outside on the terrace.
To the unsuspecting eye, Mews of Mayfair looks to be a rather modest and small affair with a courtyard lined with furniture and a few French doors leading into the restaurants bar area. Stepping inside however you soon realise how wrong you really were with a cocktail bar in the basement, a brasserie on the first floor and a restaurant on the second. Walking up to the top floor to confirm our booked table, the hustle and bustle of the dining room was completely unexpected with an almost full to capacity assemblage of Mayfair's finest. A full restaurant, what can really provide a more accurate and true representation of the popularity and quality of a venue? It was at this point I started to get excited!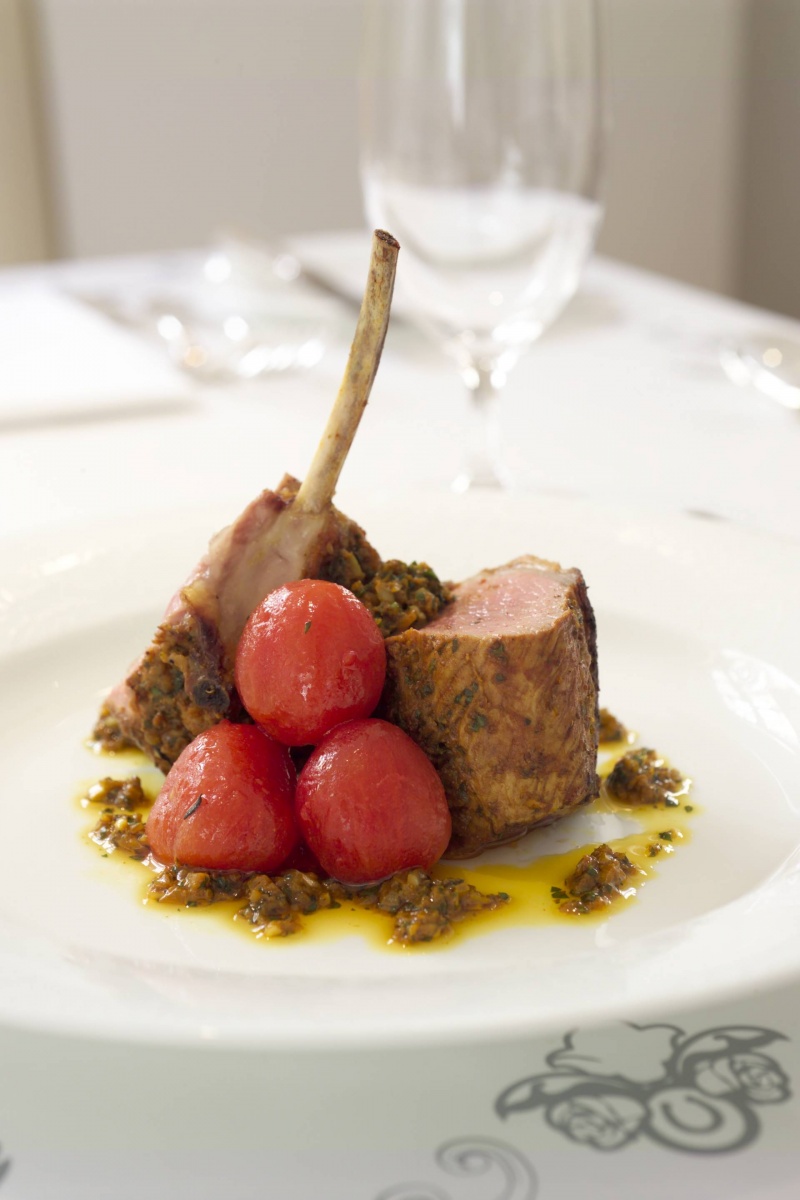 Becoming beyond enthusiastic that it was sunny we requested to be seated outside on one of the first come first serve tables in the courtyard to FINALLY go from eating al-desko to al-fresco! One thing that immediately strikes you about the Mews is the staff. Well dressed, well mannered and exceptional in the standard of service to each guest to the venue as an individual, it was lovely to really feel as though we were being very well looked after the minute we sat down.
We opted to start off with a light nibble of chorizo and a glass of Sauvignon Blanc to toast the British sunshine making an appearance after a gloomy and wet few months, au revoir winter! To say that what we had to start with was simply chorizo would be telling a whopper of a lie as oh my goodness…let's just say that I have been craving those six little sausages ever since and they have now made their way onto my desert island necessity list. They are THAT good. You would be a fool not to order them, do it!
Perusing the menu we were conscious that if we were to order too much we would inevitably face the coma of all food coma's and so each opted for a salad – mine the traditional Caesar and for Emily a grilled goats cheese version. Both options were superbly presented and the chef had been very generous with the ingredients that each plate consisted of, no stingy portions and an excellent balance between all of the elements of the dish. It is well advertised by the Mews of Mayfair that the produce they use is of the finest quality and when a restaurant has to consistently meet the expectations of Londons high rollers, you would come to expect nothing less.
Some people truly underestimate a good salad and when paired with a crisp, cold glass of wine I can't think of anything more summery or enjoyable. We were both left suitably full and were already making plans for our next visit.
The bill came to a grand total of £75.38 which yes, I would agree is rather expensive for what initially started out as a sandwich in Pret-A-Manger however putting into consideration that we were dining in Mayfair, had a couple of glasses of wine each and were looked after very very well, I would have been less shocked to see pigs fly.
Mews of Mayfair is in my opinion an absolute must have visit for anyone wanting a classic but modern take on British dining. Whether you go for cocktails, lunch, dinner or hold a private event, you will undoubtedly have a wonderful time. Great food, great wine and great atmosphere, what more could you want?!
Lot's of love and have an amazing weekend!
Jess x
Visit http://www.mewsofmayfair.com/ or book now on: 0207 518 9388