PA Diaries: Bonnie Cookson, Natural Motion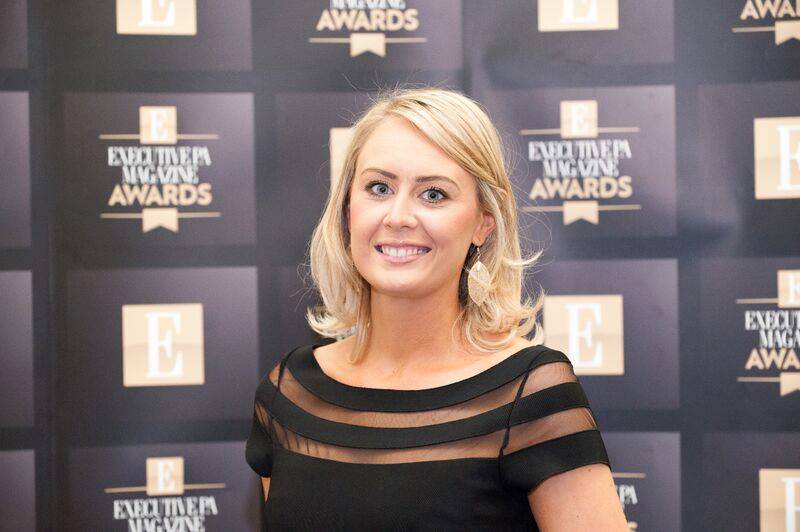 As far as the support industry goes, it takes a considerable amount of time to become established in both your personal role and the business that you work in. Bonnie Cookson is someone who I can only describe as a credit to the industry and someone that we could all have had by our side when entering this profession. Be prepared to start the Bank Holiday weekend with the perfect dose of career inspiration.
TAR: Good morning Bonnie! How are you? Busy day ahead?
BC: Hey Jess, I'm good thank you! It's been a manic morning so far, no doubt will continue but the sunshine makes everything ok…
TAR: Soak up that Vitamin D Bonnie! So let's get straight to it…
You have one killer CV, so many fantastic roles to amazing people in amazing companies. You must be very proud!
BC: Thank you. I've worked at some amazing businesses, for some amazing people – I've had a great career, I consider myself very lucky!
TAR: Currently at Natural Motion but having spent time supporting the CEO & Chairman at Hailo, the Global Head of Brand and Creativity at Skype, the COO at Harvey Nash…the list goes on! You've been in this role since 2007, what do you find keeps you in the industry and stops you falling out of love with it?
BC: I kind of fell into the PA role 10 years ago and then quickly realised how much I enjoyed it.
I really love helping people, and making sure things are organised and everything is running smoothly both inside and outside of work. The bosses I have had have definitely kept me in love with the role of being a PA. I've worked for some really cool, inspiring, fun, crazy, ambitious, and intelligent Execs, they are the reason you come to work every day as an EA so it's important to enjoy it!
Over the years I have taken on more, and worked my way up to supporting those at C Level which changes the game a bit but is really interesting. Supporting someone at that level is a constant learning curve – you get to see everything, and I mean everything, that goes on within the business. It's great!
TAR: Awesome! It really is an incredible job to have and I feel that even though at times it's tough we are some of the luckiest in the office!
So what have you learnt about yourself on your journey as a PA?
BC: Oh for sure. People often wrongly put the EA into an admin category, someone who just helps out where in reality, we are the true right hand – or at least we try!
I've learnt that I am slightly OCD! I think you almost need to be slightly to do this job. Things need to have structure and the tiny details can never be overlooked. I have learnt how to hold my own and I have become more confident. I remember when I first started out, I would quietly knock on my bosses door, almost frightened to go in and ask a question. Over time you build the confidence, and now I am comfortable sitting in on leadership meetings and having an input.
"You need a back bone in this job, it isn't for the faint hearted so don't be afraid to speak up or push back."
TAR: So looking at the role as a whole, what advice you give to someone new to the world of being a PA when it comes to the biggest challenges you encounter regularly but also those that you may only encounter once or twice in your career?
BC: So the most important thing, in both of those scenarios, is to build a solid relationship with your boss. As PAs we are faced with many challenges, some big and some small but knowing your boss trusts you, and that you can go to them with anything – really helps.
Sometimes you have to make a decision on your bosses behalf, it takes time to get to that point but once the trust is there it becomes the norm, or it has for me in my career.
Another thing I would say is don't take things personally. People might not give you the respect you deserve. You need a back bone in this job, it isn't for the faint hearted so don't be afraid to speak up or push back.
Oh, and always always keep a bottle of wine in your fridge – you'll need it!
TAR: Amazing advice Bonnie! So looking back at your career to date, what would you say has been your biggest achievement and has created an everlasting impact on you today?
BC: I think I'd say the journey at Hailo.
It was a constant roller coaster. Hailo merged with another taxi app and part of my role was to support the CEO and leadership team through that merger. I learnt SO much! Seeing the process through from start to finish, and being part of the team dealing with all of the ups and downs, and the intricate processes – the legal side of it all, the many many meetings – it was really hard work but something I'll never forget.
I knew along the way that my role would be made redundant once the merger was complete – that was difficult to deal with, but I had so much respect for my boss and the team even though I knew I wouldn't be part of the new business, I still worked as hard as I could and supported them in achieving the best for the new businesses.
It was one of the best jobs I have had i think.
TAR: And people think being a PA isn't that important!! You completely crush that idea Bonnie.
So tell us a bit more about your current role at Natural Motion…
BC: So here at NM I support the CEO and COO. We're a gaming and technology business – we create mobile games and our middleware tools are used to create blockbuster movies like Lord of the Rings and Harry Potter – it's good fun!
Here in London we have about 140 employees, and also have offices in Oxford, Brighton and in San Francisco. I'm the only EA here in the UK so it's pretty manic – both of my bosses are crazy busy as you would imagine, but I like to think I keep them on schedule!
I am still quite new in the role, I have been here for 5 months now.
We have 3 Office Managers, which is AMAZING. It is so great to have that support for office related stuff. In previous roles I have been responsible for that too so here I get the chance to really focus on the Execs.
TAR: Amazing! It sounds so much fun and you clearly absolutely love it.
So what would you say are the absolute core skills for someone to be an outstanding PA? You're very accomplished in your career so I can imagine you have seen many people come and go in this profession…
BC: I think you need to want to do it first of all. It can be a demanding job, and you get pulled in all directions from different people so you've got to want to help.
There are more obvious skills like organisation, planning, attention to detail. The thing with an EA job, I think you either have it in you, or you don't. It's not something you can learn or study for – like being an Accountant, or a Lawyer or Teacher – you are either the type of person who thrives in this environment, or not. I have known people try it out thinking they will like it, or it will be an easy ride and then soon realise it's not for them.
If you can juggle 10 things at once without breaking a sweat then I'd say go for it!
TAR: I am completely with you on the fact that this isn't a job you can learn, it's a hands on, throwing yourself in the deep end kind of thing that is either sink or swim! It sort of makes the whole journey a bit more exciting really!
So looking back at the person you were when you first started as a PA 10 years ago…if you were to pen a letter to that person, what do you think you would focus on?
"The thing with an EA job, I think you either have it in you, or you don't. It's not something you can learn or study for – like being an Accountant, or a Lawyer or Teacher – you are either the type of person who thrives in this environment, or not."
BC: I'd say stop being scared. Have confidence and if all else fails just wing it. I wing things all the time!
TAR: Just part of the job!
BC: Totally!
TAR: So looking back again to the start of your career, you mentioned that you fell into the role and the rest was history! Did you ever consider being a PA was a career option before jumping head first into the industry?
It's interesting to see the constant evolution of the job and I personally feel that in the 10 years I was doing this job before going full time on The Assistant Room that it has definitely become a viable career option and is no longer snubbed as much as it used to be…
BC: I agree. Back then it seemed an obvious choice because I didn't know what I wanted to do – oh I'll just be a PA! Now, the phrase 'just a PA' really frustrates me. We are so much more than that stereotype.
Can you name me one other person in the office who knows every intricate detail of the CEOs business and personal life, and organises that life for them, with complete discretion, and helps them keep their business running smoothly?
I know that sounds slightly arrogant, but in reality it's true. We are a key part of any business.
TAR: Absolutely in no way arrogant! It's true! The thing that I am really ambitious in trying to achieve is rather than adopting the attitude of us all feeling sorry for ourselves that we 'aren't valued' or that we 'are overlooked' in the office, I think it's all about just shouting from the rooftops how bloody amazing we all are and how important the work we do is and then people can either take it or leave it
BC: Couldn't agree more. Power to the PA!
TAR: The misconception people have of who we are and what we do is down to not having exposure to the work we do from their own personal point of view. Secretly everyone would have a PA if they were allowed one!
BC: Yes and also I think because a lot of the stuff we do is so confidential, people don't actually know we do it. They only see half of it.
TAR: Exactly! Those NDA's don't exist for the fun of it!
So looking ahead, what are your aspirations for the future and is there anything on your career bucket list that you are setting to achieve in the next few years?
BC: I mean who knows what the future holds! Hopefully more of the same.
I am so lucky that I enjoy what I do, as long as i keep on enjoying it, I'll be very happy.
I have worked for some great brands and on some amazing projects. I have got to travel which has been great and I've learnt a huge amount. Aside from landing a job as George Clooneys EA – I'm not sure it can get better?!
TAR: At The Assistant Room we are all huge advocates of shouting about and encouraging people to talk about the somehow taboo subject of mental health.
It's such a sidelined topic that there isnt really much emphasis on its importance in the work place.
For those who may be struggling with managing everything that comes under the umbrella of being a PA, what advice would you give them?
BC: Always remember it's just a job. It can be high stress, but it is never worth letting it affect your health.
This also comes back to the point of having a good relationship with your boss. If things ever get too much, it's good to be able to sit down and work out priorities.Sometimes as EAs we are expected to be on call 24/7, so it's good to set boundaries to make sure you still get your down time too.
TAR: On a completely different topic…finalist at the Executive PA Awards!
BC: Oh gosh yes. that was fun!
I was totally shocked to be in the final. There were six phenomenal PAs, so being in the same category as them was a real career highlight.
The awards evening was fab, I met so many great people. I think it's great that our industry is acknowledged with awards now.
TAR: It's amazing Bonnie! For those who are unfamiliar with the awards, what was the process that you followed and would you encourage others to pursue what can be a pretty daunting idea?
"Always remember it's just a job. It can be high stress, but it is never worth letting it affect your health."
BC: So my boss nominated me. I was then contacted and had a couple of telephone interviews, and then went to a face to face panel interview.
It was quite a tough process. We were also filmed answering some questions, which for me is a nightmare, I hate being filmed! I am not quite sure how many PAs were in the process all together, but it was a National award so there were PAs from all over the country, from various different backgrounds. The winner was announced on the night at a ceremony at Pall Mall – all very glam!
TAR: Is it something you would encourage others to look into doing even if its nominating themselves?
BC: Yes, of course! It was great to be involved. It opened a few doors for me too, I have been asked to speak at some industry events since, and it's also a nice addition to the CV.
I also met some other really great EAs, that I still am in touch with now. It was great for networking.
TAR: Networking is so so important in every industry but is something that scares so many people! It can lead you down a completely different direction that you ever thought even existed! How important would you say networking has been throughout your career?
BC: Very. I would say most jobs that I have got over the years, I have been made aware of by my network.
I'm in a huge group chat with lots of amazing EAs across London – we often ping each other recommendations, suggestions or ideas. It's used as a bit of a SOS sometimes – when you need something fast – or a suggestion on a restaurant or something like that, between us, we always come up with an answer! Thinking about it, that group chat is probably one of the most powerful in London ha ha! We can make the impossible happen.
Quick Fire
TAR: Favourite restaurant?
BC: Polpo – the Farringdon branch.
TAR: The smell of love is…
BC: Fresh coffee first thing in the morning.
TAR: Favourite album?
BC: That's a very hard one. So may to choose from. I listen to music every single day without fail. I have so many Spotify playlists that are my go to, depending on my mood. I'll choose a playlist instead. Id say Sweet Soul Sunday is one of my faves.
TAR: Best power dressing outfit?
BC: I tend to live in black. All black everything. You cant go wrong really!
TAR: The meaning of life is…
BC: The meaning of life is to give your life meaning, I guess.
TAR: The one app you couldn't live without…
BC: Instagram. Im in love with it. Also Citymapper if im allowed to pick a second.
TAR: The best phrase to get you though a tough day?
BC: Keep on keepin' on.
TAR: Biggest guilty pleasure?
BC: Binge watching The Real Housewives of Cheshire!
TAR: Favourite book?
BC: I only read when I'm on holiday…is that bad?! Anything crime drama. I like a good twist!
---
Have a wonderful bank holiday weekend!
Jess x