Eating at: The King & Co Clapham
Perfect for:
Catch up with the girls/group night out/cosy 'working from home'
On a Sunday morning there is nothing I would rather do than sit myself down in a good ol' English pub and wash down a portion of eggs Florentine with a mimosa or two. If you follow my Instagram feed you will be pretty familiar with my brunch obsession and it is one that I am certainly not ashamed of!
I am lucky enough to be able to call the very pretty Clapham in South West London my home and living within a stones throw distance of Clapham Common along with lots of little independent eateries and shops, I could call it a brunchers paradise. Now when I say a stones throw I literally do mean that I could walk blindfolded from my front door and two minutes later end up among the hustle and bustle of the high street however on particular days, I don't even need to go that far.
The King & Co is no average boozer and is undeniably my favourite place in SW4 for a bevvy of reasons; ones which I know will turn you into a regular as quickly as it did me. The King & Co is kept well oiled by a small but ever so friendly team. The guys here really have a family feel which immediately creates a warm and inviting atmosphere, something that filters down throughout everything they do whether it's the high level of attention they pay to each of their guests or the food they serve. There is a sense of pride among staff at The King & Co which may possibly be down to their brave breakaway mentality from the common high street pub with their amazing selection of craft beers, carefully created wine list, interesting & diverse spirits selection and the chefs & street-food traders who "pop-up" in their kitchen on a rolling monthly basis.
If it's not obvious already, I want to live here…
Now a huge part of The King & Co is as above, their 'pop-up' kitchen way of life and on my most recent visit, I was treated to the mouth wateringly incredible Japanese comfort food from the ladies at Fowl Mouths Food in the form of eggs Florentine (guilty) with pork belly…if you're not already hungry, you will be after you read this…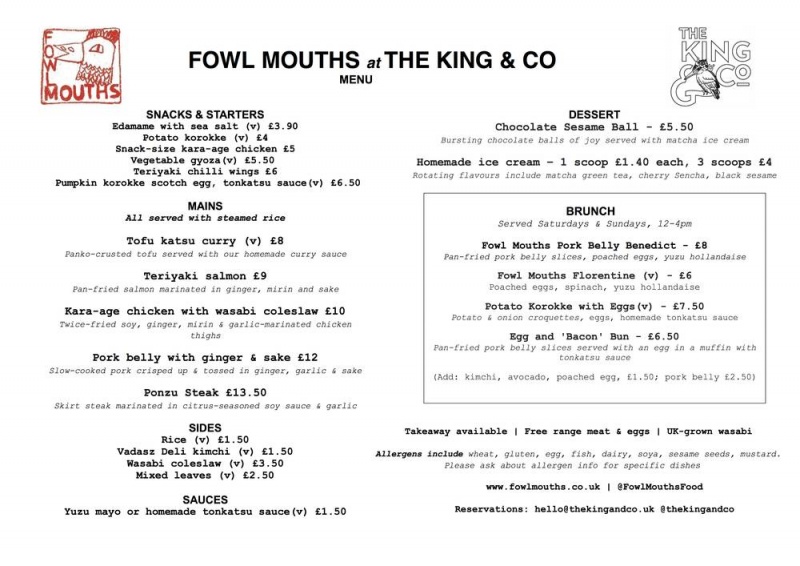 Yesterday, after a week long of looking after a rather poorly boyfriend and attempting to cure his cabin fever, we sashayed our way down to the K&Co to sample the storm Melissa was cooking up in the kitchen. W-O-W…mind officially blown.
---
Brunch Course
Fowl Mouths Pork Belly Benedict
Fowl Mouths Florentine
Dessert (just because we could…)
Chocolate Sesame Ball
With one week left on the Fowl Mouths Food residency, The K&Co is something to put
on your 'to do' list for this week and is 100% worth a journey going further than you normally would whether it be for the Japanese food and pub quiz, Japanese food and acoustic music or Japanese food and just a bloody great time!
Never have I been to a more welcoming and wonderfully unique pub and in a market already saturated by those wanting to be 'different' The King & Co put the rest to shame.
Lot's of love,
Jess x
NEXT MONTH AT THE K&CO – THE BELL AND BRISKET…