Eating at: The Gun, Spitalfields
When someone describes a London pub based in Spitalfields Market you might imagine an old, dark and dingy room with old carpet, littered with pork scratchings with the smell of stale beer and cigarette smoke. So when we were invited to check out the newly refurbished venue 'The Gun', we were curious to find out exactly what they meant when they said to 'expect the unexpected'. Boy did they not disappoint.
While The Gun has a history dating back to the 17th century and is located close to what was once home to the site of King Henry VIII's weapons practice ground on Artillery Lane, it has been converted into a contemporary and modern bar which never loses track of its roots.
The Gun has been through an extensive renovation in partnership with Heineken. They haven't just poured money into the project, you can clearly see the love and attention that has gone into transforming the old London boozer into a beautiful new and reimagined space that is perfect for everything from office parties to a lunch date with a glass of their frozen rosé.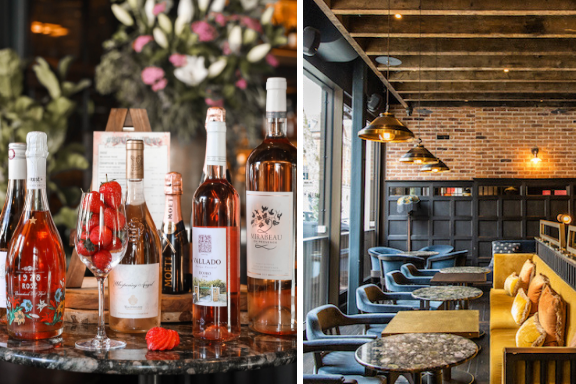 First impressions count and The Gun has created a jaw dropping arrival experience for all who venture inside.
The main room is stylish, warm and relaxed with a combination of tall industrial ceilings and classically elegant decor which come together perfectly in ways that you wouldn't expect. The dark, plush velvet furnishings give it a cosy feel while the expansive pewter bar counter with copper finishing and green marble screams sophistication. With a main feature being a raised DJ booth, Friday nights and weekend visits are also high on our recommendations list.
A beautiful bonsai tree in the centre of the room completes the new and improved version of The Gun and as you walk past it through the bar to the dinning area, you can catch a glimpse of the large open fireplace positioned at the back of the pub. Do they light it in winter? Yes they do!
The Gun is a venue that really has something for everyone. It is a space that is perfect for a midweek pint or cocktail where you can choose from their expansive beer, wine list, and cocktail selection, or late night entertainment from Jazz nights to weekend DJs, and finishing the week up with a Roast on a Sunday.
The food is not what you would expect. Described as pub food, it's actually a selection of classic options with a modern and high quality twist, made from locally sourced produce and prepared under the guidance of Executive Chef Jimi Tegerdine.
We can personally recommend the Lamb Crockets, Steak Sandwich, avo tempura, and duck salad but feel free to explore the entire menu as they do claim to have the best burgers in London!
Whether you are seeking a new spot for after work drinks, a relaxed lunch with friends, a filling and satisfying Sunday Roast, or a new spot for a late night adventure – The Gun is certainly worth a visit and will not disappoint.
Venue information
The Gun: 54 Brushfield Street, London, E1 6AG | Visit their website HERE.
T: 0207 846 95 94 E: info@thegunlondon.com
Opening hours: Monday to Thursday 11am to 11pm, Friday to Saturday 11am to 11.30pm, Sunday 11am to 10.30pm