Review: Gilbey's Townhouse, Eton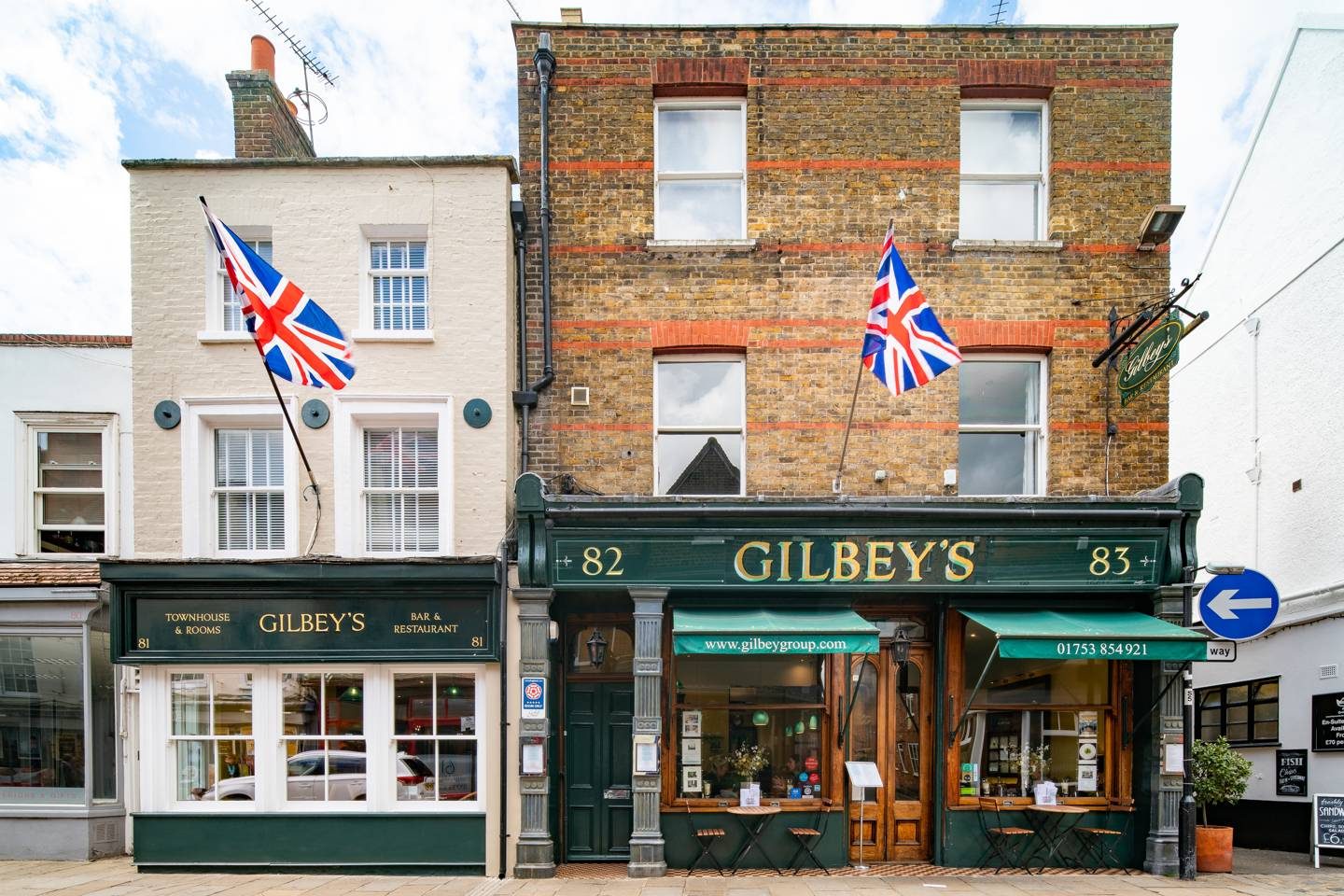 On a sunny Friday afternoon, we had the pleasure of heading west of London to Gilbeys Townhouse in Eton for an afternoon of exploration and an evening of quintessentially British hospitality.
Situated on the High Street of Eton, close to the River Thames and between the historic buildings of Eton College and Windsor Castle, Gilbey's is the perfect stop for lunch, dinner or even cocktails! Doors open from 12 noon for lunch, 6pm for dinner throughout the week and the culinary style is best described as 'Modern British' – although with their French Head Chef in charge (Amaury de Oliveira) there is a decidedly French twist!
We arrived after a short journey from London (you can travel on the train from either London Waterloo or Paddington to Windsor and Eton Central in under 1 hour) and checked into Gilbeys Townhouse which comprises of four guest bedrooms and one suite – 'The Studio Suite'. The three main bedrooms are best described as a 'home away from home' and have been given the seal of approval from media outlets including The Telegraph. All rooms are ultra-luxurious, with king size beds, antique furniture, hand-painted Oriental vases and intricate wood carvings and their own en suite.
Awarded with a 5 star rating by Visit England, we were excited to settle in for the afternoon and made our way upstairs to bedroom 1. With beautiful skyline windows flooding the room with light, an impressive bed with high quality linens and a bathroom to die for, it's safe to say that we were more than happy to be spending our evening with the team at Gilbeys.
After a successful day in Eton exploring the local area, visiting Windsor castle and resisting the urge to jump the fence of Frogmore Cottage and pay a visit to HRH Prince Harry, showered and ready to hit the town we made our way downstairs to the restaurant which received a Diners' Choice Award from OpenTable in 2017. Our expectations were set pretty high and safe to say, we were not disappointed.
Choice, value and quality are paramount at Gilbey's. Working wherever possible with local ingredients to ensure the menus are in tune with the seasons, they pride themselves on authentic British cooking and an impressive wine list. Sitting down to dine in the cosy and relaxed setting of the restaurant, we were greeted by one of the team who began chatting through the history of Gilbey's and the passion behind the brand.
Perusing the wine list, our dedicated team member described how they keep close tabs on the northern hemisphere grape-growing season. Specialising in importing directly from passionate individual French growers, we opted for a bottle of their Touraine Sauvignon at £32.
Making our way through to the menu, we ordered three courses consisting of:
Seared callops and crisp pancetta with whipped & blackened sweetcorn, scallions, micro watercress
Cornish lamb three ways: crumbed saddle, sweetbread & almonds, slow-cooked rosemary breast preserved lemon & date couscous, roasted carrots, harissa tomato fondue
Trio of ice creams: salted caramel, chocolate brownie, vanilla
Our final verdict? With an exceptional team, Gilbey's provides an unrivalled standard in the Eton area and comes high on our recommendations for anything from a weekend away to a corporate event setting.
In addition to the normal guest facilities, Gilbey's is proud to offer two private dining rooms seating up to 34 guests with meeting room facilities catering for up to 24 guests on a day delegate rate. A pretty great option for those away days with a little flair!
For more information on Gilbey's and how you can experience Eton in the same way, you can check them out here.