Eating at: Smiths of Smithfield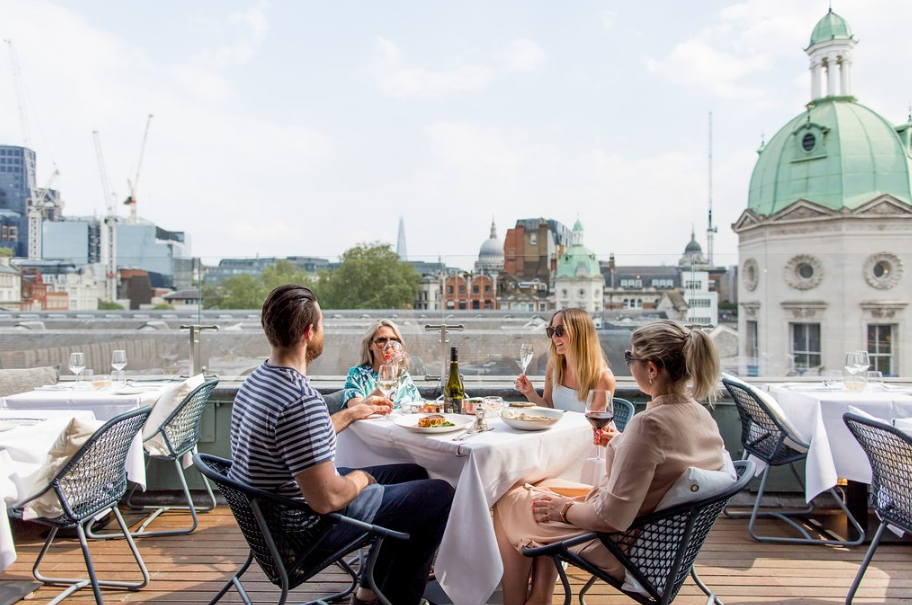 From brunches and brews, through to cocktails and destination dining, back with a bang is Farringdons four floor, Grade II listed eating and drinking emporium, 'Smiths' of Smithfield. An explosion of classic sophistication, perfect for every occasion from date night to corporate bookings, Smiths is every foodie and cocktail lovers wonderland.
When MasterChef presenter and chef John Torode opened Smiths of Smithfield nearly twenty years ago, the venue was a game-changer for the city. Fast forward to 2018 and the Farringdon landmark has been given a new lease of life post an extensive refurbishment and is now the epitome of modern day, instagram worthy luxe. With each level providing a different dining and drinking experience suitable for a myriad of occasions, Smiths of Smithfield left an impression on us like no other venue has done before.
A bright and Summery Thursday evening was the perfect setting for an introduction to the new and improved site and with us, we brought 80 of the top Personal and Executive Assistants in the local area to meet the team and experience a rooftop champagne tasting overlooking the dome of Smithfield Market and St Pauls.
Following a unique ethos of the higher you go the higher-end the experience, Smiths is a venue that caters for every type of person on every type of budget. Featuring an all-day bar and eatery, a luxury cocktail bar, classic British grill and a top end restaurant, when you throw in two private dining rooms, you have the most perfect venue open for business in London.
On the ground floor and as you enter the building, you will find 'Smiths' all-day dining room and bar. Serving breakfast through to dinner, the menu includes all-day brunch favourites, vibrant salads, classic pub dishes and stylish sharing boards. Drinks include London craft beers, artisan spirits, including the finest gins the postcode has to offer, and world class wines. It's the perfect setting to hot desk (and where you will find our Founder Jessica Gardiner the majority of the time), coffee catch ups, breakfast, an informal lunch or for after-work drinks. Offices in Farringdon take note!
Moving upstairs to Death + Victory, named after Scottish patriot William Wallace aka 'Braveheart', executed in Smithfield for fighting for Scottish independence, this is the bar for those who take their cocktails seriously. Exuding glamour, its marble art deco-style bar, offers bespoke cocktails that take cues from the drama that has surrounded the site's rich 850-year history, from fire and sedition through to the endless trials of trading. Need a cocktail recommendation? 'Uncertain Times' gets our seal of approval as a bold concoction of Havana Club 7yr, Kahlua, maple syrup and chocolate bitters.
Now as Personal and Executive Assistants, it falls within our job description to organise off site meetings and away days and this is where Death + Victory really hits our sweet spot. With two private dining rooms located towards the back of the first floor, configured to become either one large room or two smaller rooms, the first floor of Smiths is a hidden gem that should be every Assistants go to. Why you ask? As well as having a fully integrated AV system, the ability to be able to 'break out' into the cocktail lounge and the flexibility for any occasion from coffee meetings to breakfast through to board meetings or private dinners, these two rooms come at ZERO cost. No minimum spend, no hire fee, no pressure.
Death + Victory was our initial meeting point for the evening with the canape menu and prosecco selected by Alena Pankevich, Sales Manager and our VIP point of contact, becoming a huge hit with our guests. So much of a hit in fact that four events were booked by our PAs within the first hour.
Taking a moment to explore the rest of the venue before we settled on the roof terrace at the sensational No.3 restaurant, we made our way to floor two: The Grill.
Reflecting the butchery heritage of its Smithfield location, The Grill offers classic British dishes, championing best of British meat. It is every steak lovers heaven with the 28-day aged beef coming as ribeye, fillet or sirloin with sharing options which include the Scotch chateaubriand, côte de boeuf or T-bone cuts, all sold by the weight. If it's a special occasion that calls you to Smiths, you can go luxe and add half a lobster or monkfish scampi. Fancy!
Steaks aside, The Grill also cooks up an ultimate mixed grill of lamb chops, hanger steak, butcher's sausage, smoked pork loin steak, bone marrow, roast onion, grilled tomato, beef dripping chips, fried hen's egg and watercress sitting alongside a beer battered cod and chips and the unbeatable 'Smiths' burger. Lighter choices come in the form of heritage beetroot salad with Yorkshire Fettle, pear, chicory and candied spiced hazelnuts; a black quinoa, pumpkin, spring greens, avocado, beetroot and pumpkin seed salad and Jerusalem artichokes with ricotta, spinach and wild mushroom sauce.
Drinks are taken as seriously as the food, a theme that runs throughout the venue, with a carefully curated list that features bold and heady wines, craft ales and ciders and London lagers. From an aromatic Burgundy to a bold Bordeaux through to a crisp cider or artisan ale, ask The Grill's wine experts to recommend the perfect food pairing.
Our final destination was No.3, the top floor of the venue with a stunning vista over the City beyond. Floor-to-ceiling fully retractable glazing provides uninterrupted views of the city whilst the interior exudes elegance with its plush booths, beautiful brass pendant lighting, pressed linen tablecloths and shimmering glassware.
We were fortunate enough to be part of an evening that we consider to be one of the best in 2018 so far. A Perrier Jouet tasting lead by the Head Sommelier on the outside roof terrace of Smiths was an unforgettable experience.
Half bar, half dining, the menu at No.3 offers expertly executed dishes featuring the finest quality and, where possible, locally sourced, ingredients. A showcase of head chef Liam Walsh's flair for creating elegant, refined dishes. Classic plates sit comfortably with more contemporary dishes with starters such as Markham Farm asparagus with slow-cooked duck egg, Jersey Royals and black truffle; octopus carpaccio served with grapes, smoked almond and whipped North Atlantic cod's roe; and a trad gala pork pie with home beer-pickled vegetables and piccalilli. Generous mains feature the likes of Hampshire lamb belly, crispy sweetbreads, grilled gem lettuce, buttermilk and ewe's cheese; and Laverstoke Park mozzarella, violet artichokes, charred courgette, wild garlic and morels whilst the star of the show is a sharing Scotch beef Wellington with spring greens.
As our time with Alena came to a close, a group of us remained on the terrace admiring the view with prosecco in hand. With 9 reservations made from breakfast meetings to private dining room events and team dinners within 24 hours of our departure, it is safe to say that Smiths of Smithfield achieves what others do not, the ability to cater for every occasion with monumental success.
CONTACT
Get in touch via the following methods
67-77 Charterhouse St,
London , EC1M 6HJ
SMITHSOFSMITHFIELD@YOUNGS.CO.UK